Tindyebwa Agaba Wise, holding Rwandan-British nationality, is a well-known social worker and human rights activist.
He is the founder and director of the charity organization, Muryango.
It helps African refugees and asylum seekers by providing them financial supports and preparing them for jobs. 
Early Life Before Adoption, Family Background
Tindyeba Agaba Wise was born in 1987 in a small village in Rwanda. Though he doesn't know much about his biological family background, he has a story to tell about his childhood and early life.
He used to live with his parents and three sisters back then in his home country. When he was nine, his father, who was a farmer, died of AIDS, and his family was left incomeless.
Tindyebwa and his sisters were forced to drop out of school, but his mother, determined to educate them, walked across the Ugandan border and handed her children to charity Care International for their care.
You May Like: Alistair Appleton Partner, Gay, Married, Boyfriend, Now
But years later, Rwanda fell into the worst political situation, and genocide was spreading in the country.
As a result, Care International, with other aid agencies, left Uganda. Tindyebwa and his sisters found no way than returning to their village.
After living in their village for one year, he was captured by the militia with his sisters.
The army took them across the border of Democratic Republic of Congo with other children, and he was kept as a child soldier in their base camp while his sisters were separated from him
After living two and half years hazardously in the military base camp, he somehow escaped from there and returned to his village with a hope to find his mother and sisters.
But unfortunately, there, he was captured by the local police and put into prison accusing him of voluntarily rebelling against them.
Having spent eight months in prison, Tindyebwa escaped and crossed the border into Uganda, where he was spotted by a Care International worker.
He was taken to London to seek asylum in November 2003.
And on a Christmas event arranged by the charity, he happened to meet with the British actress Emma Thompson, also a patron of the Refugee Council. That was when his new life began. 
Tindyebwa Agaba Wise's Wiki / Bio After Adoption
Emma and her husband, Greg Wise, invited Tindyeba to spend Christmas in their home in north London.
He grew closer to the family, and they finally adopted him in 2003 when he was 16.
His foster mother, Emma Thompson, is a well-known British actress famed as a two-time Oscar-winning personality for her films Howards End and Sense and Sensibility.
The 60-year-old Emma came from an acting family background since her parents were also actors and actresses. 
Emma's parents that are Tindyebwa's grandparents, Eric and Phyllida Thompson, were once prominent figures in England's entertainment industry.
Eric Thompson is an actor and writer known for Doughal and the Blue Cat and Serjeant Musgrave's Dance, whereas Phyllida is known for The Time Machine and Unleashed.
See Also: Alison Hammond Married, Husband, Son, Weight Loss, Net Worth
Tindyebwa's foster father, Greg Wise, is a 53-year-old actor known for Sense and Sensibility and Feast of July.
Greg and Emma got married on 29th July 2003. The couple has a 19-year-old daughter named Gaia Romiley Wise, who celebrates her birthday on 4th December of every year.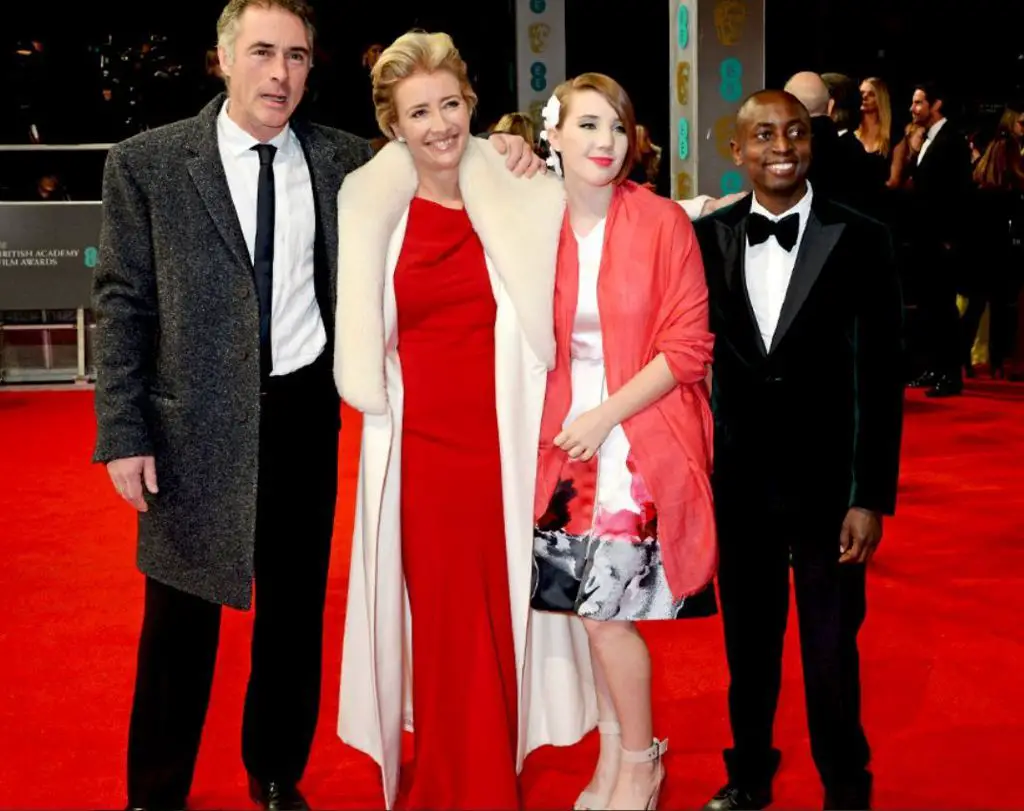 Tindyebwa Agaba Wise with his family at BAFTA Awards in 2014 (Photo: eonline.com)
The 32-year-old Tindyebwa has completed his graduation at The University of Exter with a degree in Politics and International Relations.
Additionally, he has a master's degree in Human Rights Law from the SOAS University of London.
Tindyebwa, embracing African ethnicity, is now involved in various social works.
Motivated by his past sufferings, he has been working with the United Nations, Action Aid, and International Peace Force in Palestine, Liberia, South Sudan, and Myanmar on behalf of the child and human rights. 
Married / Engaged To Wife? 
In an interview with Sky News reporter in May 2018, just before Prince Harry and Meghan Markle's wedding, Tindyebwa's mother, Emma, revealed that her son was going to be married in 2019.
She didn't give out any further information. She definitely didn't disclose who her son was engaged to.
It is yet to be revealed whether Tindyebwa got married or not since neither he nor his parents have confirmed his so announced marriage.
If Tindyebwa has married, he has not unwrapped who his lucky wife is.
So without reliable confirmation, it is hard to tell whether he is married to a wife or not.