Tim Malone plans to become a father. The real estate agent Malone and his fiance Don Lemon, engaged in 2019, reveal not rushing into marriage amid the COVID pandemic and plan to make an addition to their family.  
Tim Malone and His Fiance Ready To Become Parents
Malone's fiance Lemon, a renowned tv personality, made a virtual appearance on The Tamron Hall Show on April 1, 2021, and revealed what the couple plans to do to expand their family. 
In conversation with Hall, Lemon mentioned they are thinking about whether to adopt a kid or pick surrogacy. But, whatever method they choose to have their child will only happen after they get married. 
Lemon added that he and Melon are waiting for the COVID to be over to celebrate their wedding amongst their friends and family. Further, he thinks getting married at such a risky time is not appropriate and that he wants to celebrate their big day safely.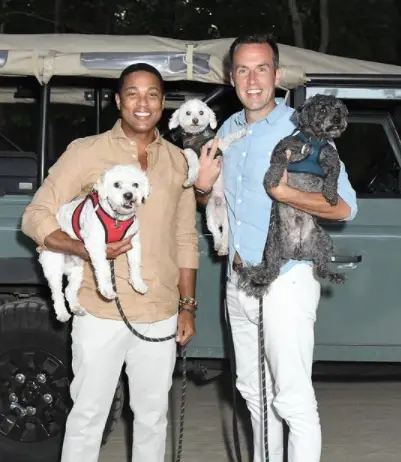 Tim Malone with Fiance Don Lemon and pets. (Source: Instagram)
Who Is Don Lemon?
Donald Carlton Lemon, a.k.a. Don Lemon, an American tv journalist, is widely famous as the host of CNN Tonight, which has recently been renamed Don Lemon Tonight.  
Born in Lousiana, the 55-year old has pursued his career in journalism for over a decade now and served several news channels such as WBRC, WCAU, KTVI, NBC, and MSNBC. 
Later, the journalist joined CNN network in 2006. He has been criticized a few times for his outspoken personality, but he doesn't hesitate to share his strong opinions on any concerning issues. 
The This Is Fire author has been hosting CNN Tonight since 2014, and his recent announcement regarding the end of the show and statting onto a new venture confused his viewers that he was leaving CNN. However, he cleared out the confusion with a Twitter post declaring that he would be continuing with the new show Don Lemon Tonight. 
Moreover, as a source claims, the regional Emmy Awards winner is entitled to a net worth of 12 million dollars, receiving a handsome salary.  
A Look Into Their Love Life
The couple, engaged in 2019, had been dating since 2016 and were spotted together for the first time during the SNL after-party, coming out of the event holding hands. Malone and Lemon have been very open about their relationship and share their moments through each other's social media handles. 
Talking to Tamron Hall, Lemon talks about finding his love at the age of 50 and how Melone is the right person for him. He also elaborated on how Melone's values and beliefs made him fall for him. 
Furthermore, the couple lives together in New York, raising their three dogs, Barkley, Boomer, and GusGus, together, and the adorable poodles frequently appear on their Instagram.