Life always gives new twists and turns, and not all people who start off working towards a specific career end up doing the same thing at the end of the day.
There are several examples of people who would go on to achieve great things in one field, but on the contrary, they end up doing great things in another. 
Model turned reality star, Taylor Selfridge is a perfect example of this.
She first started off as a model than as an early child behavioral management teacher and finally a reality star.
Taylor Selfridge's Bio 
She was born on 13th June 1994, where her family raised her alongside her two brothers, Caleb, and Zack in Portland, Oregon. 
For the facts, she hardly posts any picture with her family, but Taylor has once posted a picture with her brother, Caleb Selfridge, on her Instagram. 
As for her education, Taylor, who attended Washington State University, never neglected her education even though her career demanded most of her time. 
Taylor Selfridge MTV Career
Upon completing her education, Taylor Selfridge worked as an early child behavioral management teacher. 
She began her modeling career at the age of 18. Embracing a classically beautiful look, Taylor was able to attract many people's attention. 
See More: Kelsey Owens Age, Birthday, Height, Parents, Boyfriend, Dating, Net Worth
Later, she grabbed the opportunity to participate in season five of MTV's reality series, Are You The One?
The show is all about dating that uses modern technology to help people find love. The series contained 63 episodes.
After Taylor appeared in the show, she became one of the known faces of the entertainment industry, even though she didn't win the show.
Around 2018, Taylor appeared on the MTV show, Ex on the Beach, the show where eight single guys and girls move to the beach to enjoy the summer holiday until their exes make appearances to put a twist to things.
Lost One Baby
Recently, in November 2019, Taylor made a heartbreaking revelation. She announced that she had lost one of her twins. 
It was in October 2019 when Taylor announced her pregnancy with actor Cory Wharton. 
Taylor took her Instagram and said, a few days after the announcement, she and her partner Cory were supposed to have twins, but they ended up losing one of them.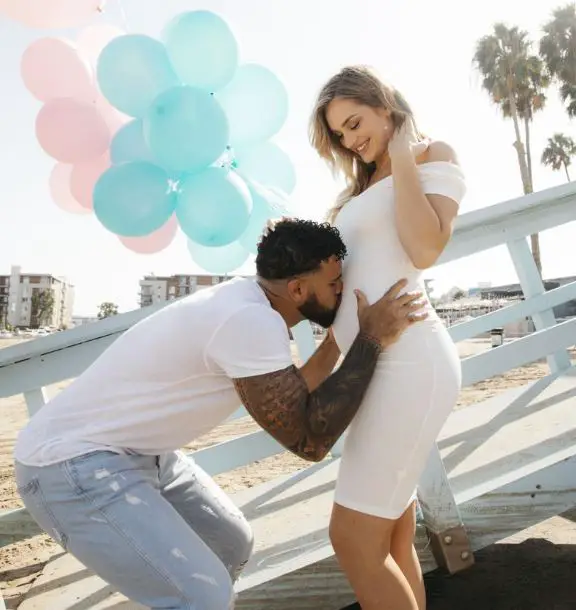 Taylor Selfridge shares the news of her pregnancy with boyfriend Cory Wharton in 2019 (Photo: Meghan Thompson's Instagram)
But on the positive side, their one baby is healthy and Taylor is already 19 weeks pregnant now.
Despite the challenges in life, Taylor and Cory are going strong and staying positive for welcoming baby.
Relationship / Dating Status
It was after making an appearance in the show Ex On The Beach when Taylor crossed her path with Cory Wharton.
Peek Once: Is Kyle Christie Dating? Girlfriend, Family, Height, & Personal Life Details
Throughout the show, Taylor was spotted together with Cory, but the things did not work out well for them.
On 7th June 2018, Cory tweeted, "I was happy with Taylor, but somehow I'm the bad guy lol, nobody made her come back into the house cmon."

Cory Wharton tweets about being the 'bad guy' in his relationship with Taylor Selfridge on 7 June 2018 (Photo: Cory Wharton's Twitter)
However, over time, Taylor and Cory's love for each other pulled them back together.
Prior to finding love in each other, Taylor and Cory were in a relationship. Her boyfriend Cory was dating Cheyenne Floyd and also shared a daughter, Ryder Wharton.
As for Taylor, she was dating Andre Siemers during the MTC Show, Are You The One?
Then she dated Joe Torgerson, who is also one of the contestants of Are You The One?