Being a part of a musical family as a whole, and more so, being born to a singer, songwriter, record producer, and actor mother, it should be no surprise that Sy'rai Iman Smith too is blessed with a gifted voice.
The teen star-kid is capable of hitting every note just right. She sure inherited the vocal power and control that her mother, Brandy Norwood, is famous for.
However, it might take Sy'rai a while before she officially presents her vocal abilities in the pop industry. "A legacy in the making"- is what people will refer to her as until the time being.
Sy'rai Iman Smith's Wiki: Age / Birthday
Still, a young baby to her mother, Sy'rai Iman born in 2002, celebrates her birthday on the 16th of June every year. 
Keep Reading: How Much Is Suigeneris Net Worth & What's His Real Name?
"Your voice and your music will touch the world,"- said the diva herself.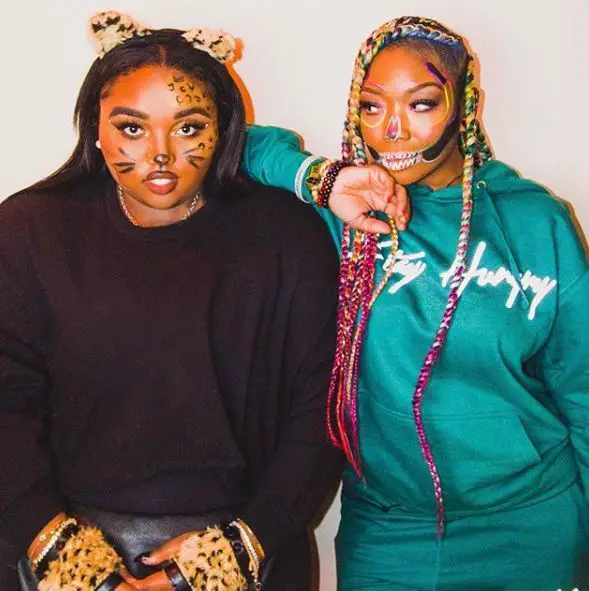 Sy'rai Iman Smith and her mother, Brandy Norwood all-dressed for Haloween at The Golden Circle on 1 November 2019 (Photo: Brandy Norwood's Instagram)
Meanwhile, her father, named Robert "Big Bert" Smith, is also into writing and producing music for newbie-aspiring artists, making their way into the industry.
Parents Detail
The final few months of Brandy's pregnancy until Sy'rai birth was documented in the MTV reality series Diaries' Brandy: Special Delivery.
It was then when Brandy announced she had secretly married Sy'rai's father. Then, two years later, Brandy and Robert, who starred in MTV's reality show, announced their split. Contrarily, Robert stated that they were never married in the first place.
Get To Know: Who Is Kat Stacks? Wiki Includes Son, Net Worth & Essential Details!???????
Hurt and shocked, Brandy said that they still shared a common bond through their daughter, and it was harsh on his part to not think about Sy'rai and her before he made comments like that. "I am stunned that he is being so dirty about it,"- said the Never say Never-artist.
Now
It is not yet apparent the kind of equation she beholds with her father.
Last reported, her mother shared a video clip of Sy'rai's singing that gave Barandy's 4.2 million Instagram followers some chills, of the uncanny voice resemblances.
More Facts On Sy'rai Iman Smith!
She is quite a buff on self-love, does not wish to lose weight because others tell her to do it, but solely for herself. Much wise for her age, she believes that as "you know who you are," nobody is going to care about "your weight" or anything else.

Sy'rai and her mother are more best-friends than a daughter-mother.

Sy'rai garners a fair share of fan followers on her Instagram account- 'syraismith.'

Sy'rai does it all- writing, singing, playing piano and the ukulele.

Her mother is the proudest of her daughter, and she can not stop raving about how talented Sy'rai is.

Sy'rai is the only child of her celebrity mother.