The success is what every individual desire in their life. But, most of them do not live to the day when they can look in the mirror and say, "I've made it." Suzanne Moore, however, is one of the few people, who fall into the category of the exception. 
More On Suzanne Moore
Suzanne, a leftwing, feminist journalist has made a successful career as a columnist in The Mail on Sunday. Yet, her path to success had a lot of twists and turns. 
Suzanne's struggle in the real world began after she left her home at the early age of 17 and spent the next seven years traveling around the world doing odd jobs.
During the years, she sold encyclopedias, worked as a waitress, as an audiology technician, and even took the job as a psychoanalyst.
She later landed on a job of editing the cultural pages of Marxism Today, which initiated her career in journalism before becoming a film critic for the New Statesman.
In the UK 2010 General Elections, she stood as a candidate from the Hackney North & Stoke Newington constituency, where she had lived for about 20 years.
Her campaign slogan was titled, "Vote for me, I'm flawed," as she believed the perfect ideals who did not represent the ordinary people had only sent the country to the Iraq war, and created expenses scandal.
Unfortunately, Suzanne who stood as an independent candidate, could garner only 258 votes (a mere 0.6 percent of the total votes from the constituency) and lost the election. 
Suzanne's Personal Life With Children. Husband?
As a feminist, Suzanne believes that there can't be even basic equality for women, without taking away the power of men. Suzanne decided at a young age that, she would never be financially dependent on a guy.
She also raised her daughters as a single mother. Suzanne had her first daughter, Scarlet at the age of 25, when she was in the second year of a degree. She had her second daughter, Bliss in her early 30s and a decade later she gave birth to her third daughter, Angel.
According to Suzanne, they all come from different fathers but are sisters through and through. Suzanne never uses the phrase 'half-sisters' to describe her daughters, and believes in the ideology " Love is thicker than blood."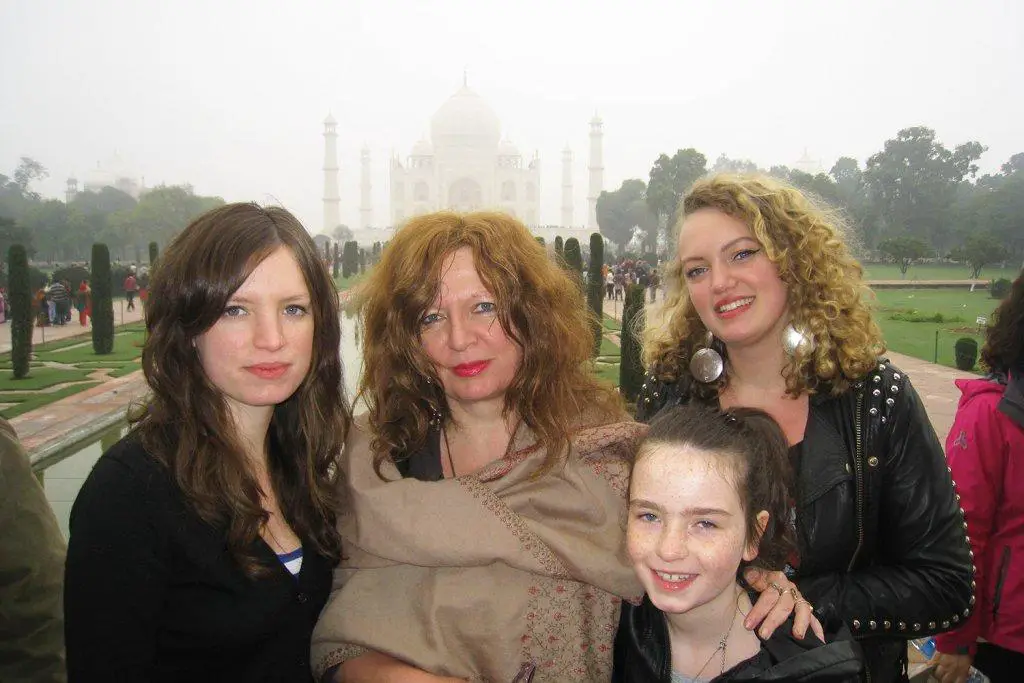 Suzanne with daughters visiting the Taj Mahal. (Photo Credit: The Sunday Times) 
Although Suzanne was intrigued by the thought of having a family of her own, she never had fate in the bond of marriage. Suzanne, who viewed men as a tool for fulfilling her desire for sex and children, was not married to any of her daughter's fathers and have never disclosed their names in the media.
But, back in January 2015, she revealed that she was married and had a husband named Roger. But, she didn't tell the last name of her partner.
Later in August the same year, she talked about her unhealthy relationship with her husband via a post on her Twitter where she wrote, "My husband's attempts at lovemaking almost repulse me. What is almost repulsed?" 
Suzanne has not revealed any further details of her husband and looking at how she is disappointed at her husband's sexual performance; it seems like the couple is not going to last much longer.
Wiki-Like Bio of Suzanne Moore
Suzanne Moore was born on 18 July 1958 in Ipswich, England to a mother who was a working-class Tory and an American father. 
Suzanne grew up with an adopted mum and attended an all-girls grammar school. She left her school at 16, but later got a psychology degree at Middlesex University in her mid-20s.
After receiving a first for her BA, she started a Ph.D. at Middlesex but left after 18 months, as she didn't want to waste a lot of work for three people to read.
Suzanne also had some drug problems during her youth, but she confessed that even though she liked drugs, she was never a junkie.