Sthembiso Khoza started his career as a log editor at Supersport and realized he wanted to be in front of an audience. He then auditioned for a Channel O show and landed as a host of Mzanzi Ridez, car customization and hip hop magazine show, that was a little similar to MTV's Pimp My Ride. 
Later, he worked as a field reporter for Vuzu's V-Entertainment magazine show and as a radio host as a voice-over artist and MC at TransAfrica radio. 
Soon after that, Sthembiso starred in telenovela series, iNkaba, Mzanzi Magic and Baby Mamas. In 2013, he returned as a host in the second season of Mzanzi Magic/Mzanzi Wethu dance show, Bounce. 
These shows are the reason for the spotlight in his life. Sthembiso Khoza accumulates the net worth from his career as a television host and earns his salary through his profession of hosting many namely shows. 
Sthembiso Married To Wife?
Sthembiso is a father to two cute little daughters and a son. His older daughter's name is Ayanda, and his younger daughter's name is Lelo. Both of his daughters are born from two different women who could be his ex-girlfriends. He welcomed his son from the mother of her younger daughter, Lelo.
His older daughter, Ayanda's mother, has not disclosed her identity. But his younger daughter Lelo's mother has revealed her name as Lee-Anne Makopo with whom Sthembiso has a son as well. 
You May Like: David Aldridge Married, Wife, Son, NBA, Net Worth
In 2017, Sthembiso got in trouble over unpaid child maintenance as his child's mother filed charges against him for not being responsible towards their son. Later on 24 May 2018, he failed to attend the court, so a warrant for his arrest was released. 
Sthembiso's sources claimed that he was not notified about the hearing of the court. And also, he claimed that his production company was not paying him on time, so he was a little delayed to provide child support. 
Although his relationship with his ex-girlfriends didn't work, his relationship with his lady, Morna Phatudi, better known as Maddy, seems to be strong.
Setting a relationship goal they even got engaged to be married.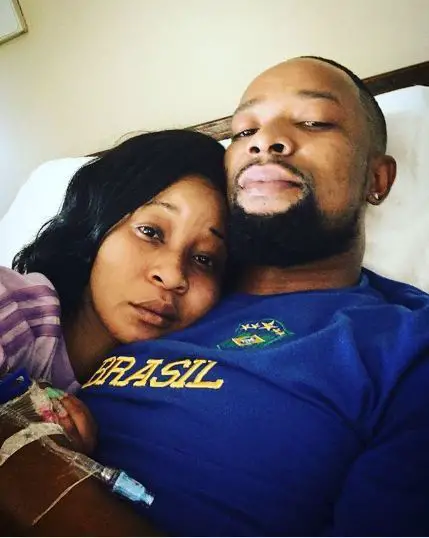 Sthembiso Khoza with fiance Morna Phatudi on 13 November 2018 (Photo: Sthembiso Khoza's Instagram) 
On his Instagram post of 13 November 2018, Sthembiso thanked Maddy for choosing to spend the rest of her life with him. And a little earlier the same month, he put up a very sweet message for his fiance, declaring his love for her in a lovely way.
It's not only Sthembiso who shows love to his future wife as Maddy expressed her love in November 2018, when Sthembiso got hospitalized. She stayed with him by his side during his days in the hospital as she was concerned about his health. 
As for Maddy's relation with Sthembiso's daughters, she seems to share a good bond with both of his daughters.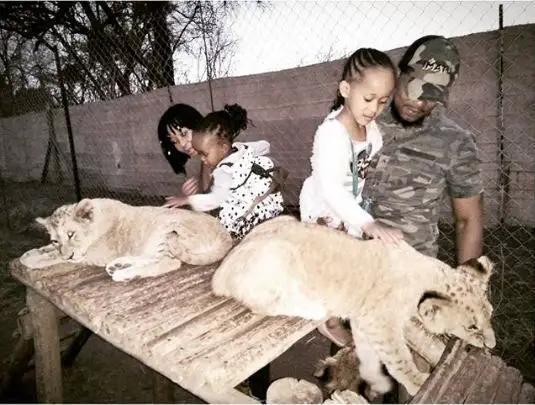 Sthembiso Khoza with Morna Phatudi and his daughters petting a cub on 17 August 2017 (Photo: Morna Phatudi's Instagram)
The family spends good quality time with eachother and enjoys their time together doing various activities. 
Sthembiso Khoza Wiki-Like Bio, Age
Sthembiso Khoza, age 32, embraces African ethnicity and holds South African nationality. He was born on 1 July 1986 in KwaZulu-Natal, South Africa.
His father, Stan Khoza, worked as the national president of the Independent Municipal and Allied Trade Union, who was also a Goju-Kai Karate teacher. Sthembiso also became passionate in martial arts because of his father, and at the age of 12, he was already a black belt.
He grew up with his brother, Abdul Khoza, also an actor.
Sthembiso graduated with a degree in Sports Management from the University of Johannesburg. With a decent height of 5 feet 9 inches (1.79 meters), Sthembiso is a very athletic person who is not only good in karate but also skilled in cricket, soccer, and rugby.