Somaya Reece is a top-rated American reality celebrity, actress, businesswoman, and singer-rapper. She is famous for appearing in reality shows such as Love & Hip Hop (2011-2017) and Famously Single (2016).
Besides that, she is also known for being the founder of the detox tea company Get Slim Tea, which helps in losing weight.
Wiki: Age, Nationality & Height
Somaya Reece was born on 17 June 1986 in Los Angeles, California, United States. Her ethnicity is Salvadoran. Her birth name is Ginie Castro.
The gorgeous and beautiful diva, Somaya, stands at the height of 5 feet 9 inches (1.75 meters).
Family
The reality star Somaya Reece was raised in a garage along with her two siblings, sisters. Her parents were immigrants in the United States and were originally from El Salvador.
Somaya Reece's Unforgettable Childhood
Somaya Reece had an unforgettable childhood because of her alcoholic father and an abusive mother. When she was a teenager, she even stopped going to school and joined a gang, leading her to run away from home.
Interesting: Hugh Skinner Bio, Age, Movies, TV Shows, Gay, Dating Status
During her association with the gang, she was nearly killed—she was stabbed and shot two times in South Central.
On top of that, Somaya also started a relationship with a teenage boyfriend and became pregnant. After she got pregnant, she went to her mother, but her mother did not let her live with her. Later, she lived with her teenage boyfriend's mother, who was mean and abusive to her—but Somaya dealt with every problem and eventually gave birth to her child, a boy. 
Son's Death
After Somaya Reece gave birth to a baby boy, she continued living with her teenage boyfriend's mother, facing verbal abuse. She also met a guy in the hospital, who was associated with her boyfriend—that guy was saying mean stuff to her and her baby.
Then one day, her son was poisoned and murdered. She saw her baby crying until his death, as she kept him in her arms.
And while speaking about her son's death in an interview with latina.com, in 2016, she said,
"My motherly instinct still thinks he (unknown guy from the hospital) had a big part of my son's murder. I think it was him."
Even now, Somaya misses her boy and mourns every year on the date of her son's death—that being 11 August August. 
Dating Life: Past To Present
Presently, the love life of Somaya Reece is a mystery because she has not spoken relating her romance lately.
She was last associated in a relationship with former Love & Hip Hop star Cisco Rosado. The information on the two reality stars dating each other came out after theJasmineBRAND exclusively reported the news in May 2019.
Personal Life About: Mark O'Brien Bio: Age, Married Status, Movies & TV Shows
Prior to that, she was also in an enduring lesbian relationship with fellow rapper, Lady Luck—real name Shanell Jones. The two had even gotten engaged in March 2017; however, they could not sustain their relationship for too long. They parted ways by the end of 2017 and called off their engagement in early 2018.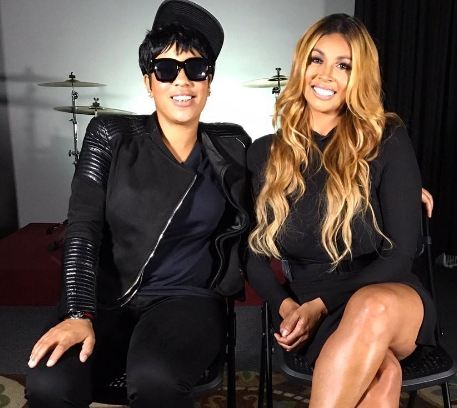 Somaya Reece and Shanell Jones aka Lady Luck in 2017 (Photo: thejasminebrand.com)
Furthermore, Somaya was also in a brief relationship with American broadcaster Joe Budden and Twilight actor Kellan Lutz.
Net Worth
According to Celebrity Net Worth, Somaya Reece held a net worth of $4 million, as of the year 2010.
Quick Facts
Somaya was titled as a "Female Emcee You Need To Know" in XXL magazine in 2011.
She was named the Hottest Latina in Music by Maxim en Español, and the 20 most talked-about Latin figures and Icons of today's culture by MSN.com Latino.