Sarah Perry is an author best known for her articles on travel and the arts. She is a winner of the Shiva Naipaul award for travel writing.
Sarah was also famous as a writer in residence at Gladstone's Library. Her writing career climbed the great the height of success when her novels were published.
Her first novel was After Me Comes the Flood that won the East Anglian Book of the Year Award in 2014. This novel was also longlisted for the Guardian First Book Award and the Folio Prize.
Sarah's career rose when her novel, The Essex Serpent was published. It was named The Waterstones Book Of The Year 2016 and shortlisted for the 2016 Costa Novel Award. This was her best-selling book that sold more than 200,000 copies in hardback alone.
She still attends the many interviews for her best-selling book, The Essex Serpent.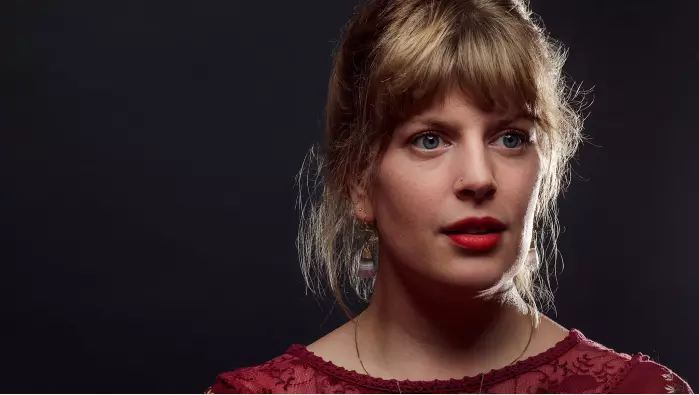 Sarah Perry interviews for The Essex Serpent on 22 July 2016 (Photo: ft.com)
Hitting better than what was targeted, Sarah grew the scale of her net worth really hard.
Sarah Perry Bio: Age, Family
Born in Chelmsford, England in 1979, Sarah celebrates her birthday on 28 November every year. She belongs to the family of devoutly Christian believers. 
Check This Out: Catrina Kidd Biography, Age, Net Worth, Husband
Her parents were members of one of the few Strict Baptist chapels left in Essex. Being brought up in the chapel, she felt like she grew up in the time era of 1895. She spent her childhood amidst the Bible reading, Beethoven, the Victorian Hymns and the print of Pilgrim's Progress. 
At the age of 8, when Sarah was searching for something to read, she found a white-jacketed book full of illustrations. It was the book, Jane Eyre. 
For most children of her age, the book would be complicated, but Sarah read it anyway. She would make her mother convert some words now and then but still felt enthralled. 
Sarah began to play truant at the age of 16 when she started to feel that she outgrew her teachers. She would instead go to the library to read rather than her school. Sarah grew up reading ancient, mythical, historical, and many other books. She probably gained more knowledge from novels than schools books.
As for her academic education, Sarah attended Anglia Ruskin University, where she studied English. Later, she completed her MA in Creative Writing and Ph.D. in Gothic and Creative Writing from Royal Holloway, University of London.
Sarah Perry Married To Husband, Partner?
Coming from a strict Christian family, Sarah was never exposed to popular cultures of her time and didn't own a TV as well. She never had boyfriends or went to gigs, and clubs like the rest of her age did.
Sarah mainly socialized by going to church, and that was where she met a handsome young man named Robert Perry at the age of 16.
Learn More About: Bridget Lancaster Bio, Age, Married, Family
Robert arrived late to the church with his parents that day. He was wearing a purple shirt without a tie; not wearing a tie to the church was a really big thing at the church she went to. Such behavior seemed reckless but full of joy to her. That was how Robert grabbed Sarah's attention.
After a little while, the couple started dating. While dating, Sarah received a CD of Eighties music as her first gift from him.
And later, Sarah married Robert and shared her wedding vows with her life-partner when she was 20.
She has been together with her husband for about 18 years, and the couple is still going strong.