Having lived to an athletic-life throughout her high school days, it is no surprise that Sabrina Parr developed this inexplicable love for staying fit.
And, today, she gets to pay her bills out of the very passion of hers.
Besides, she is an all-rounder. From being a health coach, or exhibiting her charismatic and bubbly nature as a radio broadcaster for ESPN, to exploring the businesswoman in her, Sabrina indeed has a lot going for in life. 
The five-time All-American and two-time State Track Championship winner also won a state title while she served as an assistant coach in Collinwood High School.
Sabrina certainly drew quite some notoriety for her meticulous specialties.
More From Fitness Enthusiasts: Jessica Gadsden Fitness, Wedding, Children, Height
However, she landed on uncalled-for yet the grand attention for her romantic association with American professional basketball player Lamar Joseph Odom- the ex-husband of Khloé Kardashian.
Sabrina Parr Engaged To Famous Fiance!
The wait is over, and Sabrina is off-the-market once and for all! 
On 11th November 2019, her famous beau, Lamar Odom, went down on his knees as he popped the question. And she obviously gave her approval. 
A day later, Sabrina, who is under the same management as Lamar, showcased her massive pear-shaped diamond ring among her Insta-fam and wrote- "I SAID YESS!!!!!" 
And the former NBA player also confirmed the big news, "Introducing my new fiancé!! Soon to be Mrs. Parr-Odom. She the ONE!!!!"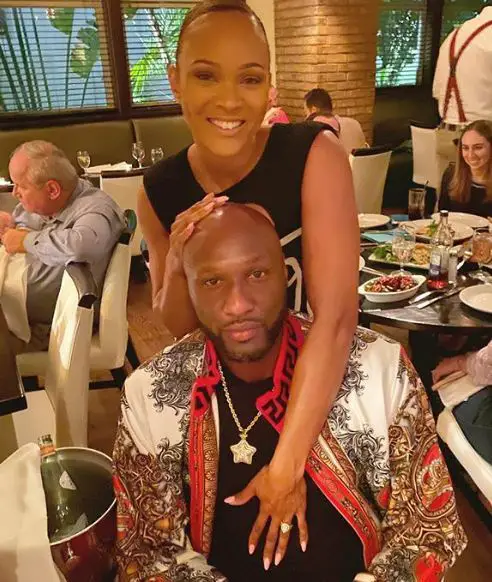 Sabrina Parr gets engaged to the former NBA player, Lamar Joseph Odom on 11 November 2019 (Photo: Lamar Joseph Odom's Instagram)
The pair were first spotted kissing in early August, and ever since, they have been impressively open about being committed to one another. 
And fans hope that, soon enough, the star-couple will be giving everyone a happy surprise as they walk down the wedding aisle. 
Before Lamar, Sabrina was married to Antonio; together, they have a son. As complex as it may sound, she entered into the marriage with a daughter from a previous relationship. 
And, now, all the past grudges aside, Sabrina enjoys the co-parenting with her ex-husband. She wrote- 
My son is so blessed! He has two sets of parents that all love him! For those of you that are new to following me, me and my ex husband divorced 3 years ago and it was BAD!... REAL BAD! I ended up going to jail and everything throughout that process. Lost so much including my mind during that time! I was so hurt and upset by everything that transpired. BUT... I knew if I held onto that pain, it wouldn't only effect my life but my kids as well. So I made the decision to FORGIVE AND HEAL! I'm so glad that I did! Me and my ex get along GREAT now! We share our son very effectively and communicate well!
Indeed, people have so much to learn from the fitness queen, even on motherhood and parenting. 
Wiki / Bio: Age, Birthday & Family
Born on the 1st of May 1987, Sabrina now stands to a height of 5 feet and 7 inches (1.70 meters).
Awesome Read: Qimmah Russo Bio, Age, Net Worth, Boyfriend
Having witnessed her during the good times, people have a tough time gathering that she and her family once struggled for money.
But then, they stood together even through the unfortunate times, and thankfully, they have a lot to thank for today.
Sabrina once tweeted that she could never thank her father enough for stepping up for eight months just to take care of his daughter when she was homeless, and her mother was in rehab. "That was HUGE!"- stressed Sabrina.
Luckily, her father, brother, grandfather, and mother, everyone came to her rescue at one point or another.
Whatever the story she lived to, all that matters now is, she has grown to be the best version of herself.