Russ Parr is an American film director, writer, actor, radio DJ, and television personality who is best known for television shows such as Rock N America. He was born in 1959 in California. Parr began his career by working as a Production Services Director for ABC TV. He also worked as a stand-up comedian for eight years; performing his first show as an opening act for Joan Rivers in Santa Monica, California.
Russ also got roles on some television shows including Turnstyle, The Jenny Jones Show, and Martin. He also appeared in television commercials for McDonald's, Kodak and Thrifty's.
Meanwhile, in 1989  left Hollywood and found his niche working as a disc jockey in Dallas, Texas on KJMZ.
Career & Net Worth
Before Russ began his career as a radio personality, he had a recording career under the pseudonym, 'Bobby Jimmy.' In the mid-1980s, he had already owned his recording label called Rapsur Records. On the recording label, he released records by his band Bobby Jimmy and the Critters.
Continue Reading: Frank Kramer Wife, Family, Net Worth
Russ and his band had a few hits such as "One Glove"- a song satirizing Michael Jackson, "Roaches," "We Like Ugly Women, " and their biggest hit was "Ugly Knuckle Butt, " and it still gets airplay on such outlets as the Doctor Demento Show.
The band managed to put out three albums, and they faded into obscurity and eventually disbanded. Bobby Jimmy and the Critters was also credited on NWA`s first album called NWA and the Pose released in 1987. 
Then in 1996, Russ moved to Washington, D.C. and signed on at Radio One's 93.9 WKYS-FM. There he began a show called the Russ Parr Morning Show with Olivia Foxx. By spring of 1997, the show became number one in the D.C. radio market.
In the year of 2006, Russ made his directing debut with a drama called The Last Stand. He also directed the roast of John Witherspoon as well as the comedies 35 and Ticking, Love for Sale and Something Like a Business. His next film is the upcoming comedy-drama titled-The under Shepherd. 
As the host of the nationally syndicated morning show called Russ Parr Morning Show, he was heard upon every weekday by more than 3.2 million listeners in 45 cities around the U.S. Aside from his radio gigs; Russ also co-hosted the TV One's dating show- Get The Hook-Up.
From all he has done this far, Russ boasts a net worth of somewhere around $4 million.
Married Life With Wife
There should not be any questions on his sexuality and definitely not any speculations about his being gay, for he is a married man and openly boasts his beautiful family in his social media pages.
Get To Know: Mike Bettes Married, Wife, Salary and Net Worth
More to his family is his three children- two sons Braxton Parr, and Pay Parr, and only daughter, Chandler Parr- all grown-ups now. No doubt, Russ and his wife are one proud parent. Time and again he boasts his children on the internet and never stops gushing about how lucky he is to have them.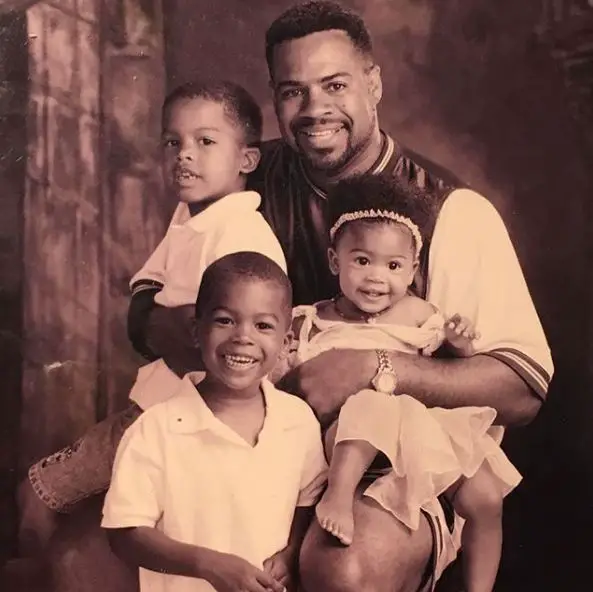 Russ Parr with his children- Braxton Parr, Pay Parr, and daughter, Chandler Parr- shared on 19 June 2017 (Photo: Russ Parr's Instagram)
Likewise, his children are grateful to have him as their mentor and family.
And, in recent time, he is more into raising awareness about Digestive Care and colon cancer prevention and treatment. Citing his own instance, about his own experience with colon cancer screening, he admitted that- 
I made the mistake of waiting 9 years when I should have gone back after my doctor told me to come back after five years. I wound up having something that needed additional surgery to be removed. I was fortunate because they were able to remove it. Some people aren't as lucky.
For all that matters, he is past his recovery and yet again ready to impress his fans and followers.