Royce Reed is one of the cast members of the VH1 reality series Basketball Wives. 
Professionally, she is the owner of the dance company Fantastique. In addition, she has also published her book series called College Girls.
Bio
Hailing from Florida, USA, Royce Reed was born on 22 June 1980. Her birth sign is Cancer.
While growing up, she was a gymnast and competitive cheerleader. Royce graduated from Florida A&M University with a degree in Theater Education and Humanities. 
Relationship With Dwight Howard
Royce and Dwight Howard initially met each other during the Orlando Magic's 2005-2006 season. At the time, she was a dancer for the Orlando Magic, whereas Dwight played for the same team. Having been engaged to the same team, they were acquainted very soon. 
Also Read: Analeigh Tipton Dating Status: Details On Her Relationship & New Boyfriend
After a few meetings, the duo began dating. Not a long time had they been together, Royce gave birth to their first and only son, Braylon on 18 November 2007.
What Happened After The Breakup?
Things went downhill in Royce and Dwight's relationship, and they chose different paths.
The pair's breakup gathered lots of media attention when Dwight filed a paternity suit in Orlando's Orange County Circuit against his girlfriend in the spring of 2008. In the suit, the basketball star had stated the Orlando Magic Centre to establish his fatherhood officially and determine child support. On the other hand, Royce had also requested the child's support determined by Florida's Child Support Guidelines.
After being in a near-constant battle over custody of their only son for years, Dwight won the solo custody of his son in 2012. But the conflict between the exes did not stop right there as Royce in late 2009 publicly accused him of being "raunchy" and repeatedly missing scheduled visits with his son.
Have A Look At This Player: ESPN's Eduardo Perez Bio: Age, Wife, College, Height & Facts
In return, Dwight fired back at his ex-partner with two lawsuits. The first lawsuit sought $9.2 Million in damages in response to the impact the comments had on his image with sponsors from McDonald's to Adidas. Similarly, the second lawsuit petitioned for increased custody of his son.
Is Royce Reed Back With Baby Father?
Years of hatred and feud have finally come to an end for Basketball Wives star, Royce Reed, and her ex, Dwight Howard.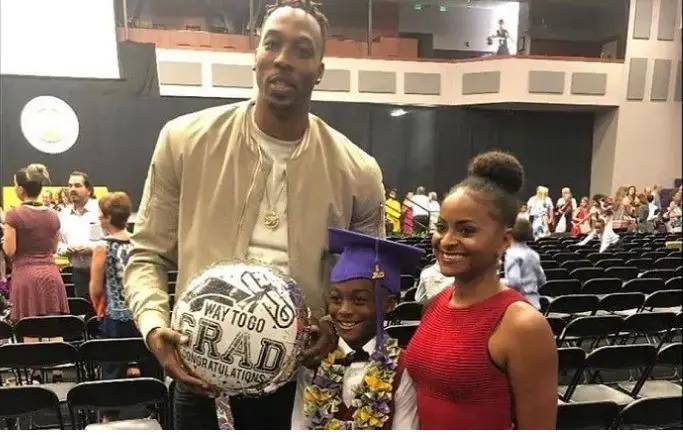 Royce Reed poses with her ex-boyfriend and son on 23 May 2019 for their son's graduation (Photo: hip-hopvibe.com)
According to TMZ, both parties have come together since 2016 for the better co-parenting of their 13 years old son. It was only possible for them to reopen the lines of communication after family members from both sides teamed up to convenience for the better upbringing of the couples only child.
Royce Reed's Dating Status
Delving into The former dancer for Orlando Magic and Miami Heat basketball teams, Royce Reed's Instagram, she is frequently seen hanging out with a man. But she is yet to spill the beans as to if she is dating a guy or not.
Net Worth
According to celebritynetworth.com, Royce Reed has a total net worth of $1.5 Million.