Several years of serving at the helm of an impressive set of companies and people still might not know much about Robert Bakish- an American business executive who serves as the CEO of the newly merged CBS and Viacom.
Robert sure made a lot out of his formal education- a Columbia Business School's MBA and an undergraduate course that he completed at the Fu Foundation School of Engineering & Applied Science.
However, the journey was not a smooth ride, involving uncompromised consistency, sleepless nights, hardships, and dedication.
Robert Bakish's Salary & Net Worth
Success stories have become a massive trend in recent times. People are eager to know the tweaks and short-cut formulae behind the success scenes.
And, when it comes to affluent personalities, it is all about the money and how they made it to the fabulous net worth.
Continue Reading: Chris Potoski Bio, Net Worth, Wiki, Age, Relationship
Such is the case of Robert, who with the new merger, is believed to get his compensation rise by about 50 percent.
Precisely, Robert is reported to becoming qualified for $31.5 million including a $3.1 million salary, annual equity grants estimated at $16 million and a yearly bonus priced at $12.4 million.
Moreover, he would also be receiving a one-time RSU grant of $5 million.
Meanwhile, the final compensation would oscillate following his performance in the forthcoming days and stock price.
Robert Bakish Married To Wife, Family
There is a saying that behind every triumphant man is a woman, and here in case of Robert is his wife supporting him through every thick and thin.
Over 23 years of marriage and the husband-wife duo going as strong as their early years. 
Robert claimed that his other half, Dee, amazingly puts up with him.
More to their happily ever after is their two daughters, Rachel being the firstborn while and Brooke being the youngest one, both in their teens with an age gap of 5 years.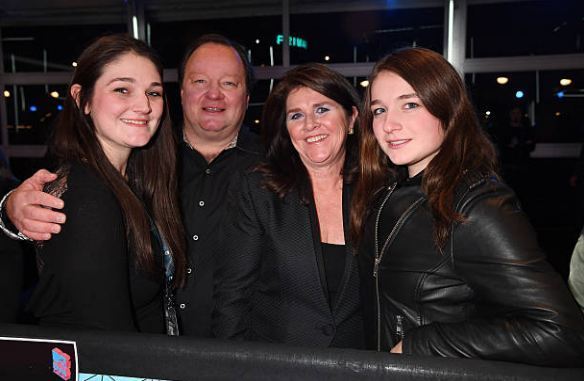 Robert Bakish with his wife, Dee, and daughters, Rachel and Brooke at the MTV Europe Music Awards 2016 on 6 November 2016 in Rotterdam, Netherlands (Photo: gettyimages) 
How lucky could a man get with a lavish life to flaunt, and most importantly, a loving and caring family by his side at all times? 
Bio & Career
Looking back at his career timeline, Robert, age 55, got hired at the Booz Allen Hamilton company for his very first job way back in 1990.
Soon, he climbed up the management ladder, impressively reaching to serve as a partner and vice-president. 
Get Word: David Packouz Wiki: Wife, Dating, Daughter, Family
He then worked in a number of platforms until he joined the team in Viacom in January 2001. The journey of multiple decades sure has been worthwhile. 
As for now, when the New Jersey native is not running his enterprise, he can be spotted in his personal space at his family home in New York.