David Packouz is an American entrepreneur, musician, and inventor. He is also the founder of Singular Sound, a company that focuses on making technology that empowers musicians to create better music.
He was born in St. Louis, Missouri as the third child among nine children of pioneering 'Internet Rabbi' Kalman Packouz.
David grew up in Miami and Jerusalem. With his growth, he became fascinated by science, due to which he studied chemistry.
He also studied philosophy, practiced massage therapy and international business.
Through his immersion in diverse fields and his traveling to many places around the world, he got exposed to many different ideas, and philosophies. 
Furthermore, David recently lost his grandmother (died at the age of 98) on 6th April 2019.
He expressed his sorrows saying that he will always remember her beautiful smile, her easy laugh, empathy, and love. 
Dating / Married Girlfriend, Daughter
The handsome hunk who has a charming personality surely has all that takes to pull the attention of women.
With his same charm, he has impressed his now-wife but has not opened much about his wife and their relationship in the media. 
Nevertheless, as per his biopic, The War Dogs, it has come to the limelight that Davis was dating a Spanish girlfriend, a fellow massage therapist before things turned up to be challenging as his frauds surfaced out. 
You May Also Like: Michaela Conlin Married, Husband, Ethnicity, Parents
Interstingly, he had also already welcomed a daughter named Anabella Jane with his girlfriend in 2007.
But as he was too obsessed with his job and duties, his relationship with his partner turned south. So, due to his own mistakes, he parted ways with his baby-mama. 
But David soon managed to sort out his career and patched up with his girlfriend. Later, he turned his boyfriend-girlfriend relationship into husband-wife with his girlfriend.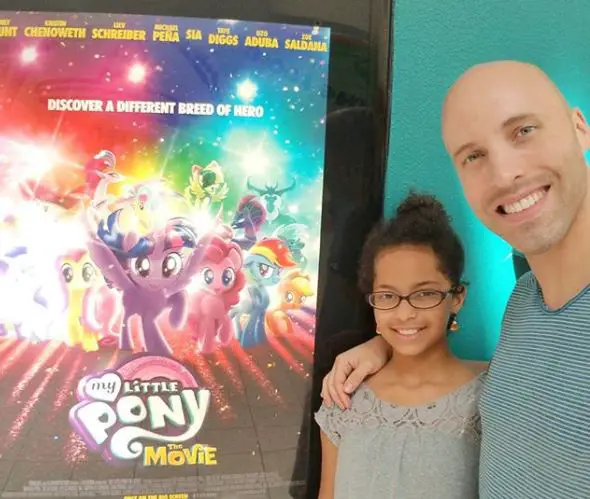 David Packouz and his daughter, Anabella Jane, going for a movie on 8 October 2017 (Photo: David Packouz's Instagram)
As an active user of his social account, David often flaunts pictures of himself and his daughter, but he never sheds any hints of his wife.
But, speculating at his social posts, it can be predicted that he is leading his married life happily with his mysterious wife and daughter as a small family.
David Packouz's Net Worth
The American entrepreneur summons his net worth, particularly as the CEO and founder of the Singular Sound Company.
Besides, he was also an arms dealer during the War in Afghanistan and a partner of AEY Inc., a major weapons contractor for the U.S. Department of Defense.
In early 2007, AEY Inc. secured a nearly $300 million U.S. government contract to supply the Afghan Army with ammunition and weapons.
Speculating the sources of his income, it is likely that Davis bags a hefty amount of fortune. However, the precise figure of his net worth is yet to be disclosed. 
David Packouz & Efraim Diveroli 
Efraim Diveroli and David Packouz were high school friends. 
Efraim was the founder and President of the company, AEY Incorporated, while David was the Vice President. Efraim offered David to be part of his company in 2005, and David happily accepted the offer at the age of 19.
After working together, the venture of the duo became widely successful. Within one year, the company secured 149 important contracts, mostly federal contracts worth over $10 million.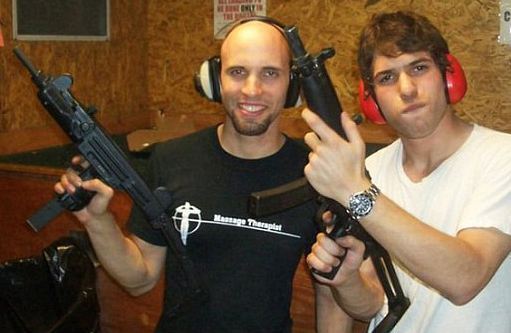 David Packouz and Efraim Diveroli at a Miami gun range in 2006 (Photo: historyvshollywood.com)
Upon securing a $298 million arms supply federal contract from the US government to supply all kinds of ammunition to the US-allied forces in Afghanistan in 2007, AEY Incorporated decided to defraud the US government by purchasing the said ammunition from China.
See Also: Jacqueline Ray Wiki, Bio, Age, Wedding, Divorce, Net Worth, Family, Today
The company started covering the source of ammunition, which was inferior and of low quality by repackaging and rebranding them. David was privy to the arrangement.
When the US government discovered that AEY Incorporated had repackaged crumblings, Efraim and David were investigated in 2011. 
Efraim pleaded guilty and was indicted on several dozen counts of fraud that earned him four years of imprisonment. David, on the other side, received a much lighter sentence with only seven months of house arrest. 
Based on the real-life story of them, a movie was made by Todd Philips named War Dogs in 2016. The film was well-acclaimed and enjoyed by the audiences. 
Moreover, the movie is set to be available on online-platform, Netflix, from 15th September 2019 after almost 3 years of its theatrical release.