With the rising number of social media platforms, their vast array of entertaining content, and the consequent increase of media power has allowed many people to excel in their talent. While some of them used social media platforms for personal gain, Rickey Thompson uses it solely to entertain audiences.
He is a social media star, who first gained popularity on Vine and also gained more than 2 million followers before Vine shut down in 2016. 
Later, he began posting videos on his YouTube channel, which are usually loud, vibrant, and full of energy. Some of his notable videos are 'I Pooped my Pants,' 'Would You Rather Challenge,' 'Slang Words with Rickey,' 'Cooking with Rickey,' 'Embarrassing Moments,' 'Whisper Challenge,' and 'Makeup Challenge.'
Now, on his channel, Rickey has gained more than 1.2 million subscribers.
Rickey Thompson's Bio
Rickey was born on 6 February 1996 in Raleigh, North Carolina. Currently, he lives in Los Angeles and also has a younger sister named Karson Thompson.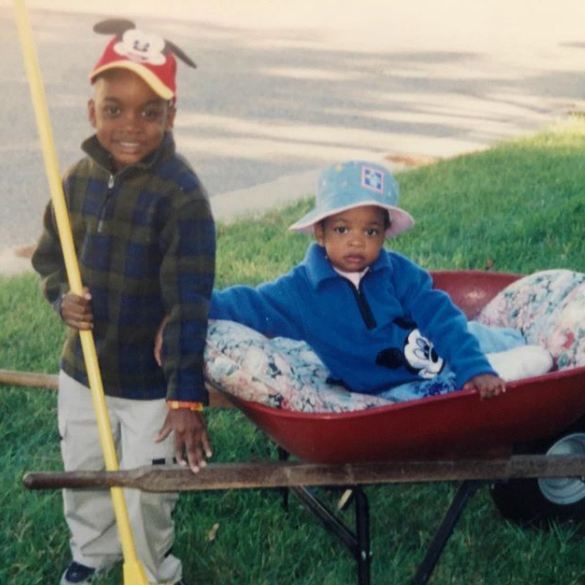 Rickey Thompson wishes his sister Karson Thompson on her birthday on 1 October 2019 (Photo: Rickey Thompson's Instagram)
His sister Karson has also appeared in Rickey's YouTube videos titled 'WHAT'S IN MY HAND CHALLENGE WITH KARSON!!"
Height
Rickey Thompson stands at the height of 6 feet (1.83 meters).
Coming Out As Gay
Rickey Thompson was not always so straightforward. In fact, when he was younger, he was the shyest kid ever. During his school day, he had many female friends than male. However, he never felt attracted to girls, which made him realized his sexual preference. For many years, he took the time to accept the fact and talk openly to the public.
Gay YouTuber: James Charles Gay, Boyfriend, Parents, Brother, Height
Sadly, even after Rickey came out in 2015, people would bully him and tell him he was annoying and picked on him for how he looked. However, after he began posting vines and getting attention, he was galvanized by the immense popularity he received. Soon he began encouraging people who are ostracized to stay true to who they are.
Recently, Rickey was featured in a campaign for Calvin Klein and also took his Instagram to announce, "I am so honored to be a part of the #MYCALVINS #IRL campaign this right here is a dream come true!"
Quick Facts
Rickey's birth sign in Aquarius.
From vine star Jake Foushee, he revined his several videos.
Rickey loves to eat chicken and also claimed that he could eat chicken for the rest of his life.
He celebrates his birthday on 6 February every year.
He hates caterpillars because, when he was a kid, he accidentally grabbed a tree branch, and there was a butterfly nest that fell on his head. Several caterpillars crawled over his body, and a few got inside his mouth. Till now, the incident disgusts him. 
Rickey is lactose intolerant and hates milk and its byproducts.
He is very organized and a hygiene freak.
He baths thrice a day because he thinks his body odor can enhance air pollution.