Sixty-three years old, Richard S. Trethewey is an American HVAC contractor and plumber.
He is popularly known as a TV personality who appears regularly on This Old House and its spin-offs, titled Ask Old House and Inside This Old House. 
Richard Tretheway's Wiki & Career
Richard Tretheway was born in 1956, making his current age 63.
Holding American nationality, he grew up in Dedham, Massachusetts, the United States with his family. 
However, he has not revealed much information regarding his family background, due to which his sibling's whereabouts are also not known. 
However, unlike his family life, his professional life is very visible and open. 
In 1979, producer Russell Morash called on Trethewey Brothers to help him and lend their expertise to his new home improvement television series.
More From Marrieddivorce: Damien Garvey Bio, Wife, Family, Net Worth
At first, Richard's father, Ron, filled the role for a season. After that, he turned the job over to his son, who handled the duties ever since.
Richard is a master plumber and registered journeyman in the Commonwealth of Massachusetts.
For each This Old House project, Richard oversees all the heating, air conditioning, and plumbing renovations.
For the show Ask This Old House, he offers his expertise to the viewers who write send questions related to plumbing and HVAC, and he also occasionally visits a viewer's home.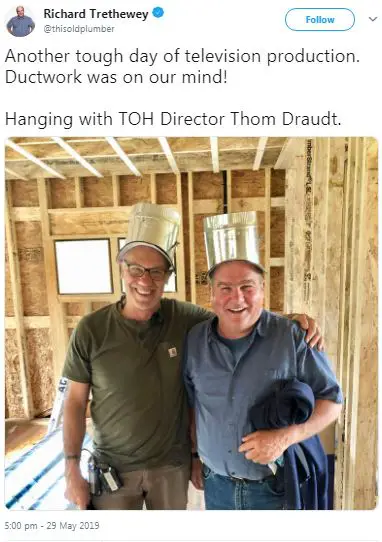 Richard Trethewey poses with This Old House director Thom Draudt on 29 May 2019 (Photo: Richard Trethewey's Twitter)
Richard left Trethewey Brothers to form his own company called RST, Inc in the year 1990.
RST is a manufacturer's representative for several lines of plumbing and different HVAC equipment ranging from pipes to complete home systems.
The company is located in Westwood, Massachusetts. The company serves much of New England and has employed nine people.
Richard has also written books. His books include This Old House Heating, Ventilation, and Air Conditioning, published by Little,
Brown and Company in 1994; contributor to Homeowner's Manual, published by This Old House Books in 2000 and contributor to Complete Remodeling, published by This Old House Books in conjunction with Sunset Books in 2004.
Richard is also a contributor to the book of heating and plumbing sections of This Old House Bathrooms and This Old House Kitchens, which was published by Little, Brown, and Company in 1992 and 1993.
He also teaches about the injury and precautions while making household equipment and their maintenance.
Married To Wife?
Richard is a married man. He lives with his wife, and the couple has two sons.
Richard and his family live in a Boston suburb in 1865 Victorian that he has extensively remodeled and designed by himself.
He is living a happy life, so there is no question of his divorce. Richard has gained a lot of professional skills throughout his career.
He is an editorial board member of This Old House magazine, which is published by This Old House Ventures, Inc.
Recently Richard Trethewey's sons named Evan Trethewey and Ross Trethewey, who are in their father's business too, have started to appear on the show This Old House.