The fashion mogul Renee Greenstein, renowned for her fashion brand Women with Control and Attitudes, relishes her married life of over three decades with Justin Greenstein. The outgoing couple makes the most out of their time traveling together around the globe and spending time with their son and grandchildren.
Renee Greenstein's Family
The Attitudes founder, who had lost her first husband to a heart attack in 1989, went through a devastatingly tough time. But, not long after, love found its way again, and she fell for Justin Greenstein, a real estate agent, whom she married happily in 1991. 
Although the couple does not have kids together, Greenstein has a son Corey from her previous marriage. Corey is a married man with two kids, a daughter Aya and a son Levi. The proud grandparents don't miss a chance to spend time with their grandkids. The close-knitted Greenstein family celebrates every occasion together whenever possible. 
Even when she couldn't be with her whole family amid the COVID pandemic, she celebrated the 2020 Hanukkah virtually. Greenstein and her husband began the celebration, lighting up the candle and the rest of the family members joined virtually through video call. She captioned how grateful she was for the technological advancement that brought her together with her loved ones.  
The couple made it past three decades of their togetherness with an undeniably strong bond with still many more years to go. Greenstein took to Instagram to share a glimpse of her 30th marriage anniversary celebration on January 1, 2021.
Moreover, the couple loves to travel together, and Greenstein's Instagram is proof of their travel adventures. Regardless of their age, the couple is young at heart and knows how to keep their love life young and exciting.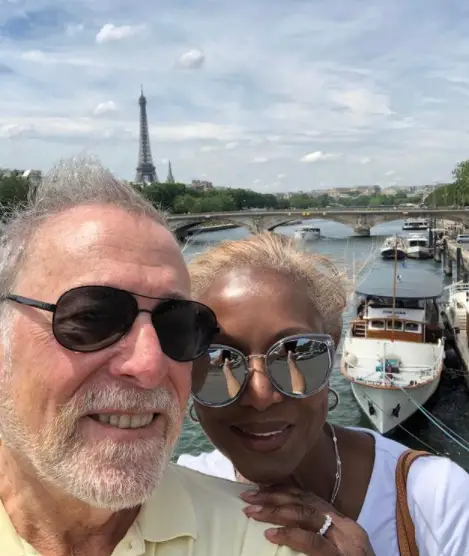 Renee Greenstein and Her Husband. (Source: Instagram)
Greenstein's Success With Women With Control and Attitudes
Courage and hunger to learn are the qualities that define her when it comes to her accomplishments in her business venture. After leaving her job as a fitness model, she explored on her own to found her excelling fashion brand, Women with Control and Attitudes, which not only dominates the American market but takes up a good place in UK and Japan too.
Despite countless challenges she tackled, her resilience and faith in her process added to her achievements making her Control line one of the most popular products in QVC America. Her collection aims to embrace women of all shapes and sizes and prioritizes comfort in the designs.   
Age is not the limit to the fashion designer, who still excels at her career and thrives on living the best out of her life. Based on the success she has had with her brands in the local and global markets, the 70-year-old has probably amassed a hefty net worth in seven figures or more.