Polina Glen, the Russian dancer, and choreographer must have imagined making the fame out of her love for dancing.
However, never did she expect that she would someday come to the utmost prominence because of her romantic life, especially from being linked to the super famous name in Hollywood.
Polina, who started her career as a go-go dancer for the Nebar nightclub, came to extensive media and public attention as the love interest of the famous American actor, producer, and musician, Johnny Depp. 
The identity of the "leggy" Russian beauty, standing to a gorgeous-looking height, was a mystery until bits and pieces of her started getting around.
Keep Reading: Toccara Jones Married, Husband, Boyfriend, Weight Loss, Net Worth
Meanwhile, today, Polina is assumed to have found the attention that she is not used to, "scary" enough to fleeing back to her homeland. 
Polina Glen Splits With Johnny Depp!
Polina, who was for the first time reported going out with Johnny earlier in the year 2019, seems to have called-off her affair. 
Some close insider admitted to the Dailymail that Polina "hated" the attention the relationship was bringing her. 
Back in the days, when all was well between Johnny and Polina, it was said that the pair was even considering getting married.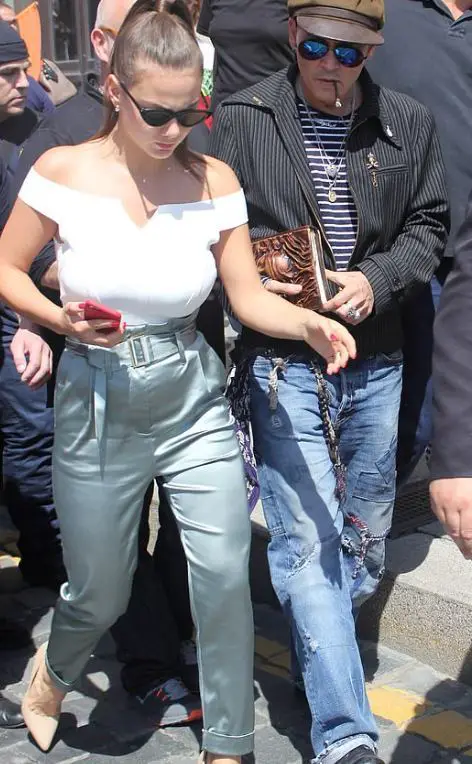 Polina Glen walks side by side with Johnny Depp while on the tour in Moscow with his band The Hollywood Vampires in May 2018 (Photo: dailymail.co.uk)
They met at a party in L.A., and it had also been said that Polina lived with Johnny in his Los Angeles mansion.
The real deal of what literally went between them might take a while, for both of them are tight-lipped on the matter.
What Polina had with Johnny is said to have sparked as he was retrieving from his "tumultuous marriage," followed by divorce with the actress, Amber Heard. 
Although the divorce was finalized back in January 2017, Johnny was since then been clasped to the legal conflicts with over allegations of abuse in the marriage. 
Age / Birthday
A bit of delving into her life story, and it is all apparent that there is a lot to Polina besides her connection to the Hollywood superstar.
Also Look Into: Ashley Burgos Boyfriend, Daughter, Mother, Pregnant, Bio
Polina was born to her parents, Gennady Glen and veterinarian mother, Irina, in Kazakhstan 25th of March 1996. Shortly after, her family moved to St. Petersburg, Russia.
Job, Net Worth
Polina, who was was crowned the "Miss Nebar" back in 2012, actually studied electrical power installation at St. Petersburg's State Polytechnic University.
Still, for some reason, she never worked as an electrical engineer. 
She became a dancer instead and opened her own dance studio, set to become the top go-go dancers in Russia. 
Polina also started her own company, selling the herbal teas from the Karelia region. Also, her being a qualified travel guide and Italian translator cannot go unnoticed. 
However, the woman of a great many fortes is yet to reveal what she so far saved in her net worth from all the jobs she is indulged into.