American sociologist and sexologist Pepper Schwartz is a Professor of Sociology at the University of Washington. She has served more than 12 years of her career as love, sex, and relationship ambassador at the American Association of Retired Persons (AARP).
Likewise, she has also given a TED Talk in 2011 on the topic of the next sexual revolution. Besides that, she has authored as well as co-authored more than 25 books, which include American Couples: Money, Work, and Sex, Places for Passion: The 75 Most Romantic Places in the World, The Normal Bar: The Surprising Secrets of Happy Couples, and 50 Myths about Human Sexuality.
As of now, she is making headlines as a relationship expert on the A&E and FYI's TV show named Married at First Sight.
Bio Plus Age
Pepper Schwartz was born on 11 May 1945 in Chicago, Illinois, United States. She was raised in a Jewish family by her parents named Julius J., an attorney, and Gertrude Schwartz.
An Actor: Terrence J Dreadful Breakup With Girlfriend! Recent Dating Status
She got her education from Washington University in St. Louis and graduated with a degree in B.A. and M.A, Magna Cum Laude and Phi Beta Kappa. Later, in 1974, she received her degrees in Masters of Philosophy and Ph.D. in Sociology from Yale University.
Who Is Pepper Schwartz's Husband Now?
Pepper Schwartz is married to her long-time partner, Fred Kaseburg.
They first met in 2006, and seven years later, they finally got engaged in mid-2013. However, in an interview with aarp.org, in late 2015, Pepper stated that she and Fred had never lived together. She confirmed;
I've been with my guy, Fred Kaseburg, for more than nine years now. But unless you count shared vacations or running back and forth between our two houses (he's in Seattle; I'm 40 minutes east in Snoqualmie), the two of us have never lived together.
Despite their long-distance relationship, their bond never got weak, and eventually, they got married secretly.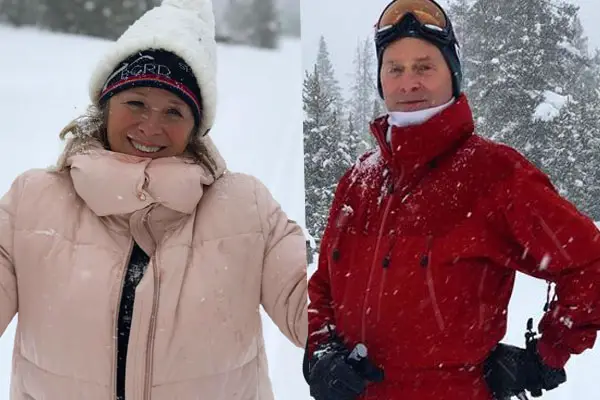 Pepper Schwartz with her husband, Fred Kaseburg at Idaho on 5 March 2019 (Photo: Pepper Schwartz's Instagram)
Before Fred, Pepper was married to an architect named Art Skolnik. Their relationship initiated in the 1980s, and they later shared the wedding vows. Following their wedding, the couple lived in San Diego. Together, they even got blessed with two children named Ryder (born in 1985 on Saturday) and Cooper. Afterward, the family moved from San Diego and settled down in Seattle.
However, the duo's married life wasn't meant to last forever as they separated after 23 years of their marriage. Despite their divorce, Pepper and her former husband still have a good bond of friendship.
TV Shows
Apart from being a sociologist and sexologist, Pepper Schwartz is also involved in the television industry.
Her first TV role was as a Sociologist when she played in her debut TV Movie documentary named Loving & Cheating in 2005. Later in 2008, she played in Another Chance for Romance (TV Series), Bi the Way (Documentary), and The Bonnie Hunt Show (TV Series).
Have A Look At This Meteorologist: WPLG's Julie Durda Wiki: Age, Husband, Baby & Facts
Following that, she also debuted in 2009's LoveTalk (Documentary), 2015's Married at First Sight: The First Year (TV Series), 2019's Married at First Sight UK (TV Series), and 2014-19's Married at First Sight (TV Series).
Some Interesting Facts About Pepper Schwartz
Her daughter, Ryder, is married, and she has two children.

Pepper Schwartz is the Board of the Advisory Council of the Human Sexuality Program at the University of Minnesota Medical School.

She serves as a Chairperson of the Intimacy and Aging study group at Stanford University's Center for the Advanced Studies in the Behavioral Sciences.

She is a former president of the Society for the Scientific Study of Sexualities (SSSS) and the Pacific Sociological Association.

Pepper was named one of the 25 Smartest People in Washington State by Politics Magazine.

She has also worked as a co-author of a column for Glamour magazine and American Baby magazine alongside Janet Lever.

She worked as a member of KIRO-TV for almost 12 years.

She was a Woodrow Wilson Fellow at Washington University.

At the University of Washington, she teaches Sociology of Sexuality to more than 700 students.

She is the creator of PerfectMatch.com and co-developer of the dating site named Keeper.

Pepper has been honored with several awards like Alumni from Washington University, the International Women's Forum Award in Career Achievement in Washington State, the Matrix Award for Achievement in Education, and Gagnon Award for Sexuality Studies.