Jess Cagle is well-recognized as the Editorial Director of PEOPLE and Entertainment Weekly. He is also known for his work on The Oscars Red Carpet Live (2013), The Writers' Room (2013) and Good Morning America (1975).
Besides his fame from his career, Jess is an openly gay man who supports LGBT community from his heart. He openly shares his personal life with the media and hit the headlines time and again.
But this time, Jess has made to the headlines because of his wedding with his boyfriend.
Jess Cagle Personal Life: Married To Matt Whitney
Jess Cagle got married to his longtime gay-boyfriend, Matt Whitney, a TV writer as well as producer, on 26 May 2018 in front of about 120 guests at the Bridgehampton Club in Bridgehampton, New York.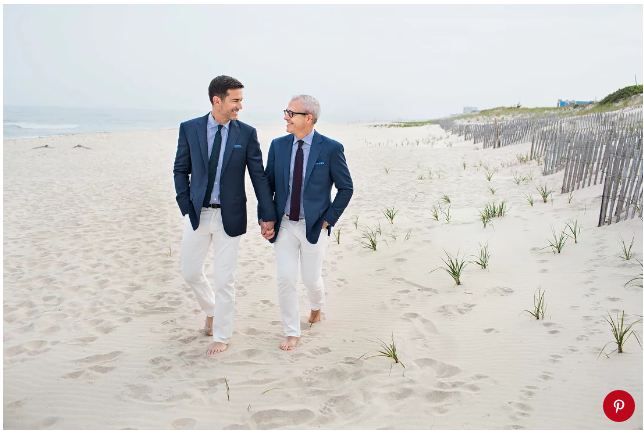 Jess Cagle and Matt Whitney posted on 29th May 2018 (Photo: people.com)
Many well-known celebrities attended the wedding, including Sofia Vergara, Joe Manganiello, George Stephanopoulos and many more. Disney/ABC executive Kevin Brockman officiated the wedding ceremony.
Both Jess and Matt's family attended the wedding, including Matt's parents, Miriam and Mason Whitney, and Jess's mom, Cleta Cagle Bradley.
Several attendees uploaded the photos of the wedding ceremony on social media. Two days earlier on 28 May 2018, an American actress Abigail Spencer posted a photo of a group of celebrity friends who attended the wedding in Southampton, New York on her Instagram with the caption, "I am not in this photo."
American actor Manganiello also shared a photo of him along with Hammer from the celebration. Even Chambers posted a group photo from the nuptials on his Instagram.
Jess Cagle delivered a marriage proposal scoop via Facebook on 16 March 2017. That time, both Jess and Matt were on vacation in Hawaii. Matt proposed Jess in a quite a unique way buying dessert for Jess. The spoon had four very important words written on it "Will You Marry Me."
Jess quickly accepted the proposal and said 'Yes' to him.
Jess Cagle's Short Bio, Net Worth, Gay Community
Jess Cagle, age 53, was born on 8 August 1965 in Abilene, Texas, USA as per wiki.
Jess graduated from Baylor University in 1987 and began his career joining Time Inc. in 1987 as a reporter for People. In 1990, he helped launch Entertainment Weekly.
Jess also covered the entertainment industry as a senior editor at Time from 2000 to 2002, and again returned to People as entertainment editor.
Jess, who stands at the tall height, often appears on Good Morning America, Today, CBS This Morning shows. Moreover, over the span of his career, Jess has interviewed Hollywood's biggest celebrities including Julia Roberts, Brad Pitt, Sandra Bullock, Jennifer Aniston(breast cancer survivor), George Clooney and Elizabeth Taylor.
Jess worked as Editor of Entertainment Weekly for five years (2009-2014). Later in 2014, he became the Editorial Director of People and Entertainment Weekly, where he is responsible for the print and digital editorial leadership of the two brands, with a day-to-day focus on People, the world's most popular celebrity weekly.
Being the Editorial Director of PEOPLE and Entertainment Weekly, Jess earns a whopping salary from his career, which contributes to his substantial net worth which dwells in millions.