Noelle Watters is a former fashion stylist and an American television personality.
From a young age, she was passionate about fashion and kept herself up to date about the latest fashion trend with the help of fashion magazine 'Vogue.'
After completing high school, she got an opportunity to host a web fashion show called 'iMag Style.' Soon after, she got a chance to work for 'Fox News' and started gaining recognition. She also appeared as a fashion and style guide on a popular talk show 'The O'Reilly Factor.'
Noelle Watters' Bio, Age
Noelle Watters was born in 1979 in New York City, New York, USA, as Noelle K. Inguagiato. Her parents are named Rosemary and Peter Inguagiato. She attended Fairfield University in Connecticut and graduated in 1998 with a degree in Bachelor of Arts. 
Relationship Details With Jesse Watters
Noella Watters was once married to Jesse Watters.
They first met on the job on the sets of popular television news channel FOX. In 2009, the couple started dating and soon got married the same year. Later, on 4 November 2011, Noella and her husband got blessed with twin daughters named Sophie Watters and Ellie Watters.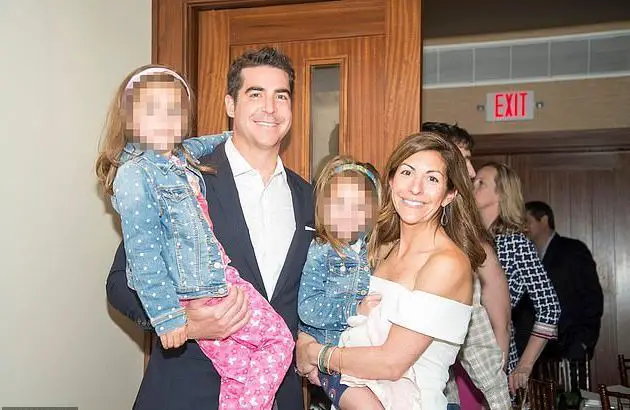 Noella Watters, Jesse Watter, and twin daughters (Photo: dailymail.co.uk)
The family of four was often spotted spending quality time in some of the most popular holiday destinations across the United States.
Latter, Noella and Jesse's married life ran into trouble when Jesse started having an extramarital affair with a girl named Emma DiGiovine. Noella discovered about her husband's infidelity after Jesse and Emma posted pictures of their vacation to the Caribbean Islands on their social media pages.
In October 2017, Noella filed for divorce, but the news of their split was not made public until March 2018.
Currently, Noella is focused on raising their twins' daughters.
Ex-Husband
Noella's ex-husband Jesse is an American political commentator on the FOX News Channel and frequently appeared on the political talk show The O'Reilly Factor.
He first began his career as a production assistant at FOX News. Then, in 2003, he moved to the production staff of The O'Reilly Factor, and a year later, he began appearing on-air in segments of O'Reilly Show. On 11 June 2014, Jesse debuted on the FOX News show, Outnumbered, and on 20 November 2015, he debuted his own monthly FOX News program, Watter's World. In January 2017, his show became a weekly show.
Another Television Personality: Why Did Angie Goff Leave NBC4 & What Is She Doing Now?
Other than Jesse's professional life, after he was filed for divorce by Noella due to his infidelity, he informed the network of his relationship with Emma DiGiovine. After the announcement, Emma was transferred to The Ingraham Angle, but Jesse and Emma continued to date. In August 2019, Jesse announced his engagement to Emma, and in December 2019, they exchanged their wedding vows.