Unconventional political analyst, Nina Kouuprianova is a renowned photographer and also a translator of several Russian books written by Alexander Dugin, a Russian Political Philosopher. 
Apart from her self-made fame, Nina Kouprianova is also infamously known as an alienated wife of white supremacist politician, Richard B. Spencer.
Nina Kouprianova Wiki
The 30-year-old was born on 19 October 1988 in Moscow, Russia. Her parents moved to Canada when she was very young. Her mom and dad worked as a scientist in their home back in Russia. So, they sought similar jobs also in Canada and in the USA which caused their frequent movement over North America. 
You May Also Like: Annie Karni Wiki, Bio, Age, Wedding, Husband
The migration led Nina to be able to command over two languages- Russian and English. Not only that, but she also got the opportunity to practice nature-oriented photography. As a keen photographer, she has shot over Russia, Japan, and Europe. 
 Nina completed her education from the University of Toronto. She is a Ph.D. holder in history with a focus on Modern and Contemporary Russian Culture and American Foreign Policy.
Nina Kouprianova Husband, Divorced?
The year 2009 marked a special date in Nina's life. It was the time when she met the love of her life, Richard Spencer, an inventor of the American Alt-Right. The couple dated for a year before exchanging wedding vows in 2010. 
Then, they beautified their bonding by caring and understanding each other. With the sway of time, their relationship took the next turn as they welcomed their daughter in 2014. It seemed that their married life was on the right track.
But, a serious phase came out in Nina's life when she and Richard separated for a brief time in 2016. For good, the couple reconciled in 2017 and even celebrated the arrival of their second daughter. Nina and Richard once again enjoyed the taste of a blissful married life and parenthood.
Interesting: Mimi Rocah Married, Husband, Family, Age, Bio, MSNBC
Sadly, the bliss didn't last long as Nina's marriage experienced a major setback. On 23 October 2018, Nina filed a divorce against Richard with multiple allegations of abuse. In the petition, she clarified that Richard abused her physically, financially, emotionally and verbally even during pregnancy.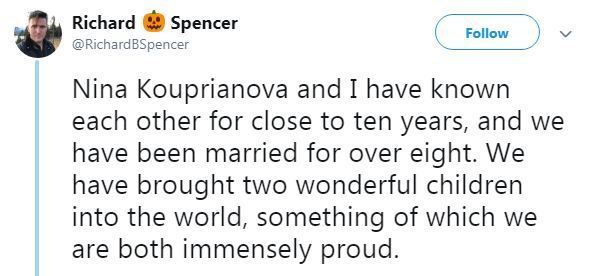 Richard Spencer tweeted about his children and married life back on 24 October 2018 (Photo: Richard Spencer's Twitter)
But, confusing the followers, Richard made a tweet on 24 October 2018 gushing about his wonderful children and eight long years of marriage with Nina. He talked about his kids and wife but didn't mention about the divorce and feud with Nina. 
How Nina Kouprianova Sums Up Her Net Worth? 
Nina travels a lot for photography. She garners her net worth as a photographer and a blogger, who writes in the blog named Nina Byzantium. Apart from her job, she actively focuses on Russian politics and considers Russian president, Vladimir Puttin as her personal favorites.