American social media personality, Instagram star, and model Nathan Schwandt has more than 2.1 million followers and is best known for his makeup and lifestyle pictures. 
Additionally, he is also famous as the ex-boyfriend of the makeup mogul and fashion guru, Jeffree Star. 
Nathan Schwandt's Bio
Nathan Schwandt was born on 19th August 1993 in Michigan, USA. 
Born as the eldest of two children born to his parents, he has a younger brother named Zachary Taylor Schwandt, popularly known as Zach Schwandt.
His brother, Zach, born on 21st December 1995, is an Instagram star with more than 290 thousand followers in his account, zach.taylors. He is known for posting various selfies and lifestyle photos.
Height
Nathan Schwandt stands at a height of 5 feet and 9 inches (1.75 meters).
Dating & Split Details
Nathan Schwandt was in a relationship with Jeffree Star. Recently (January 2020), the couple broke up. 
As of their love story, the couple met for the first time on Instagram DM. Soon they started talking online, then texting and eventually doing phone calls and FaceTime. 
Another Social Media Star: Crystal Westbrooks Bio, Age, Height, Net Worth, College, Dating Status, Boyfriend, Family
Then after a few months, Nathan went to Los Angeles to visit Jeffree, where they enjoyed their first date, and in May 2015, Jeffree posted a picture of them holding hands on the beach, making their relationship official. 
After that, the couple began regularly appearing in Jeffree's social media content and Youtube videos. 
In July 2016, Jeffree went with Nathan to meet his family. He also offered Nathan's brother, Zach Schwandt, the responsibility to help with the expansion of his cosmetics company, Jeffree Star Cosmetics, and to live with them in California.
Nathan and Jeffree were also spotted spending time together and going on a tour frequently. Nathan even helped Jeffree in his cosmetic line. 
However, after five years of a loving relationship, rumors of Nathan and Jeffree's split began to appear as their fans noticed Jeffree has removed 'Wifey to Nathan' from his Twitter bio in early December 2019.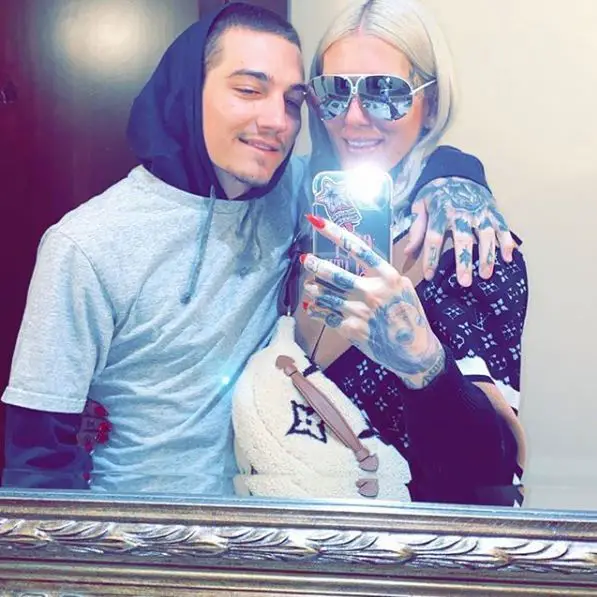 Nathan Schwandt with his ex-partner, Jeffree Star on 4th December 2019 (Source: Jeffree Star's Instagram)
Amidst their break up rumors, the Jeffree announced that they were moving into a new megamansion, which is reportedly worth $14.6 million. Jeffree also said that the house was a Christmas gift to him and Schwandt. 
However, finally, on a Youtube video entitled 'We Broke Up' posted on 11th January 2020, Jeffree announced that they had split a few weeks ago.
About Ex-Partner Jeffree Star
Jeffree Star was born on 15th November 1985 in Huntington Beach, California, with the birthname Jeffrey Lynn Steininger.
He is a well-established makeup artist, model, social media star, and fashion icon. He is also famous for his cosmetic line, Jeffree Star Cosmetics. 
Instagram Model: Miracle Watts Before Surgery, Age, Dating, Net Worth, Affair, Hair, Birthday And Family
Talking about his sexuality, he refers to himself as androgynous. His twitter account also states him the same. 
Sexuality Talks of Nathan Schwandt
Talking about Nathan Schwandt's sexuality, he faced criticism from the public after it was revealed that he had only dated women before meeting Jeffree Star. Some people also speculated him as 'gay for pay,' alleging that he was dating Jeffree just for fame and money. However, Nathan denied the speculations, saying that Jeffree was not so much popular and hadn't even started his cosmetic company when they first met.