Molly Burke is a Canadian motivational speaker, activist, and Youtuber.
As a promising speaker fighting for disability rights, she has traveled around the world and spoken alongside Demi Lovato, Martin Sheen, Martin Luther King III, Malala Yousafzai, and many more.
She is also popular on Youtube with nearly 2 million subscribers, where she posts her life stories, challenges, and her day-to-day life management. 
Talking about her earnings, she has collected a remarkable amount throughout her career but hadn't disclosed her net worth yet. 
Molly Burke's Bio, Family 
While her current measurement is yet to be disclosed, Molly was barely five feet (1.52 meters) at the age of 19. 
Molly Burke was born on 8th February 1994, in Toronto, Canada. She grew up in Oakville, Ontario, with her brother, Brady. 
Worth Reading: Brendon Burchard Married, Wife, Gay, Quotes, Net Worth, Bio, Height
From an early age, she was an active kid and a good soccer player, but when she reached the age of four, she was diagnosed with Retinitis Pigmentosa, a rare genetic disease that will eventually turn her blind. 
Her vision was slowly fading away, along with her childhood entertainment and her struggle to be like normal.
At the age of five, she became the ambassador for an organization, The Foundation Fighting Blindness Canada. 
When she reached 14, her vision was almost completely deteriorated, which led to her long journey of struggle due to disability.
Students at her school started bullying her, including her long-time friends. The worst part was some of her teachers and friends thought she was faking blindness. 
After continuous bullying, she fell in depression and anxiety, which led her to leave school.
But her father, Peter, and mother Niamh stood with her to help and encourage her.
She began to attend a blind school, but soon later, she returned to regular school. Again, she faced the problem, but this time, she fought back, and her new life began.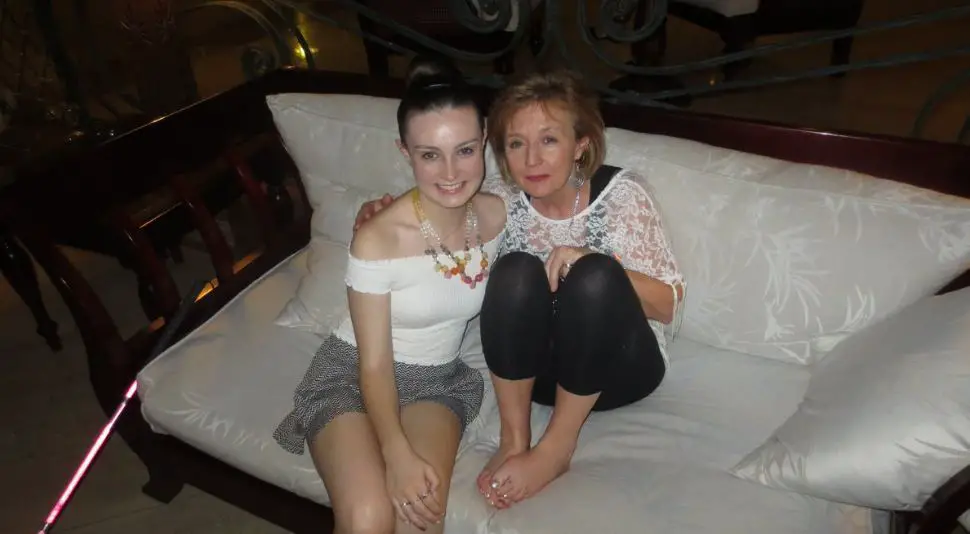 Molly Burke with her mother Niamh on 8 May 2016 (Photo: Molly Burke's Twitter)
After graduation, she was strong and confident enough to go on her own and help people in need.
Motivated by her brother, who was working in an orphanage in Africa, she also wanted to do social work. Finally, an organization called Me to We invited her on a mission to build a school in Kenya.
That was when she began to step up to the path of a successful motivational speaker and activist. 
Dating Boyfriend / Husband?
As of 2019, Molly Burke is single.
Don't Miss: Jay Shetty Wiki, Bio, Age, Married, Girlfriend, Net Worth
On an Instagram post dated 14th February 2019, she shared a photo of herself captioning how it feels to single people on Valentine's Day.
But the reason behind his single status is yet to be revealed. Probably, she is focused on her works, or maybe she has not found the right guy to be her husband. 
However, Molly Burke has some of her love vibes previously. On a tweet dated 5th March 2015, she mentioned her boyfriend, Matt, but never talked officially about him. 
Similarly, she shared a Youtube video in 2017, casting a guy named Bradon Schwarz and referring to him as the love of life and soulmate. She also mentioned him as her gay boyfriend. They were also seen hiking together. 
However, openly gay, Bradon is found in a relationship with a partner named Andrew Barmann as of 2019.