Beauty and Lifestyle vlogger, Meredith Foster has been rocking the Youtube community since August 2009. With all her amazing beauty hacks and her dreamy lifestyle vlogs, she has garnered over 4.8 million subscribers on Youtube. 
Her self-titled Youtube channel garnered a huge number of subscribers which led her to create a new channel dedicated to her daily vlogs titled, vlogsbymeredith which has over 1 million subscribers. 
More About Meredith Foster
Meredith Foster who is 22 years old celebrates her birthday on 5 November every year. She was born in 1995 in California, United States and stands tall with an average height of 5 feet and 5 inches, i.e., 1.6 m.
Talking about her family, her father name is Steve Foster, and mother name is Laura Foster. She has sister name Elizabeth and also a twin brother named as Michael. She also has a dog named as Lucky. 
Rise To The Stardom
Talking about her profession, she is a blogger and vlogger and has chosen to make Youtube video for rest of her lives. Her most of the videos have to do with fashion & beauty.
Meredith began watching different Youtube videos during the summers of her high school. Seeing some of the videos, she got inspired and started to upload the videos to youtube from 8 August 2009. Even her parents were supporting her towards her attempt in her videos.
One day her sister who was then working for a newspaper, she told about her sister having a Youtube account. Words spread and her friends came to know about it and began teasing about it to her. Then she decided to deactivate her account. But later in 2010 she again activated her account and uploaded an apology video to her viewers. After then she regularly uploads videos on Youtube.
On her main Youtube channel, Meredith uploads the videos which her fans request such as "fashion tips" to "getting ready with me" and also from challenges to DIYs.
Meredith once gained enormous popularity from her first channel. So she began her second channel where she now uploads weekly vlogs. Another reason behind she uploads about fashion and beauty is because of Taylor Swift.Once she even told in one of her videos that she takes inspiration from Taylor Swift. She loves her style and dressing sense. Back on 14 January 2012 she also uploaded a video how to get the hair like Taylor Swift.
Meredith Foster's Love Life
Hot and Gorgeous Youtuber Meredith Foster has gained lots of popularity in the world in social media and has lots of fans in increasing day to day. But she has never said anything about her personal life to her fans and admirers.
However, recently she has shared a picture with rising singing sensation, Miles Hardt whom she has been supporting for his career.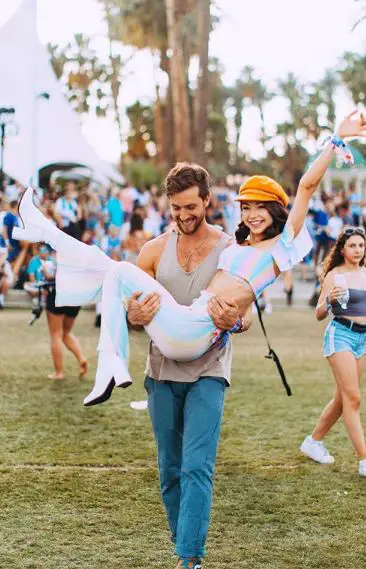 Meredith with Ryan at Coachella on 18 April 2018 ( Photo: Meredith Foster's Instagram)
Gathering all the information about Meredith Foster, she told that she hasn't been in any dating with anyone. She even in one of video told that "She is single and ready to eat Pringle." So, presently she is focusing on her career as Youtuber and planning to keep producing good content and entertaining her viewers rather than concentrating on romantic life.