Helping others indeed brings good to ourselves. Perhaps that's why the life of the British relationship expert Matthew Hussey has been filled with bliss. 
Well, Matthew is a love guru, who has been providing love and romance lessons to people since 2008. He is also the famous author of the book, Get The Guy that tells us what we can do while being in a relationship. 
Apart from that, Matthew is also a lead dating expert in the series of digital programs and live events, Get The Guy. His tips and advice have transformed people's perspective on life and helped them to garner bliss in both profession and personal life.
Not only others, but the charisma of his dating tips appears to be working in his own life too as he is blissfully dating a former Fifth Harmony star. 
Matthew Hussey's Bio & Career
Matthew was born on 19 June 1987 to parents Steve and Pauline Hussey in Essex, England. He was raised alongside his two brothers.
Matthew started his career in 2008 as a teenager by working as a dating coach for men. To flourish in his career, Matthew moved to the United States in 2010 and began hosting iHeartRadio's LoveLife program.
You May Like: Shane Deary Bio, Wedding, Age, Net Worth
After a few years, he published his first book Get The Guy in 2013. His book ended up being in the New York Times Bestseller list. Not only that, but Matthew also provided relationship advice on CNN and The Today's Show.
As of now, the love guru also has been dedicating his advice on his column in Cosmo magazine since 2015 and has online tutorials, 7-hour-seminars in the UK and the United States.
To move forward with his career, Matthew initiated his youtube channel on 30 Dec 2008. His channel that helps the dating individuals now holds over 1.1 million subscribers and more than 183 million views. 
With his work as a dating expert and author, Matthew has already amassed a net worth of $2.5 million.
Matthew Hussey: Single, Dating or Gay?
Well, the 31-year-old youtube personality is renowned for his thousands of relationship-saving advice. But in the past, the guy relished his singlehood. He was not publicly linked with any women for so long that people even speculated him to be gay. 
But Matthew kicked out all the gay rumors with his taken status. Since February 2018, he has been dating that the pop starlet, Camila Cabello.
Don't Miss: Matthew Espinosa Wiki, Girlfriend, Dating, Height, Family, Net Worth 
The status of the two dating came to highlight when Matthew and Camila were spotted together at a beach in Cabo San Lucas on 8 February 2018.
According to a source, Matthew, who had worn a blue swim trunk, and his girlfriend, Camila even shared PDAs and lots of smiles.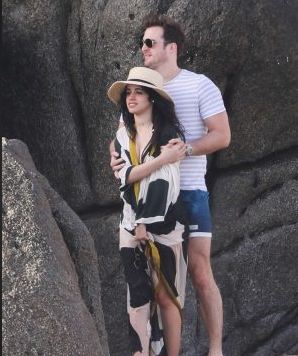 Matthew Hussey enjoys a romantic sunset stroll with a girlfriend, Camila Cobella on a beach in February 2018 (Photo: gotceleb.com)
Moreover, during an interview with the Who magazine in July 2018, Matthew stated to have genuine feelings for his girlfriend. He told that Camila is one of the best dates he has ever had in his entire life. 
See Also : Eugene Lee Yang Age, Gay, Partner, Family, Net Worth, Height
Matthew, whose height is 5 feet 9 inches (1.7 meters), is head over heels for the having the Havana singer as his partner. While talking to the New Idea in July 2018, he even revealed that he is ready to build a family with Camila when the right time comes. 
Moreover, Camila, who has a net worth of $6million, also said that she wants to protect the specialty of her relationship with Matthew by keeping their affair away from the public's eyes.
With plans of building a family and keeping it safe from the limelight, indeed hints that Matthew has finally found his right one. Possibly, the time for the two get married and share their vows as husband and wife is not anywhere far.
Matthew Hussey Cheating On Camila?
Recently, the news about him cheating on Camila surfaced while they were still together. Apparently, Matthew was second timing Camila and Dutch singer Elieve. Elieve made the confession that she was dating Matthew at the same time Camila was. 
Matthew started dating Elieve when he was in London when she was working on her singles. After he met her, both of them were drawn towards each other, and she found him captivating.
Also Read: Dr. Reza Jarrahy Biography, Age, Religion, Net Worth, Divorce, Family, Height
But after she returned from London, Elieve saw the paparazzi pics in Mexico with Camila, and she felt shattered. She confronted Matthew, but he denied it, saying that she was just a fangirl of him. 
After the truth, Elieve cut all the contact with Matthew, and she also mentioned that she did not like the way Matthew handled the whole situation; she is not bitter towards him or Camila. 
However, after the disclose of Matthew cheating, Camila Cabello will be walking the red carpet alone. It was initially planned that the pair would be walking together. But after the cheating allegation, Camila will be walking alone.