Marzia Kjellberg, aka Marzia Bisognin, is a famous Italian YouTuber, as well as a writer. She tasted the spotlight after her videos on her Youtube channel started to get more attraction. 
She is also an entrepreneur and fashion designer who launched her own clothing line in 2015. 
With such fame, she has been able to garner more than 7.4 million followers on her Instagram account only. 
Besides, her Youtube channel named "Marzia" (previously "Cutiepiemarzia") has over 7.68 million subscribers and 21 million views. However, due to some reason, she decided to quit the Youtube a year ago. 
Nonetheless, her fame didn't get low; instead, it doubled as she married one of the most famous YouTubers, Felix Kjellberg, or more precisely known as "PewDiePie." 
How Did Marzia Kjellberg Meet PewDiePie?
Marzia and PewDiePie's relationship kicked off in a very unusual style.
Get To Know: Who Is Jai Courtney Girlfriend? Interesting Facts About Suicide Squad Actor
Marzia's friend Daizo recommended her to watch Pewdiepie's YouTube videos. Instantly smitten, she wrote him an email during 2011, just to tell him how much she had enjoyed his works.
Soon they began dating and by October 2011 Marzia moved in with him to Sweden.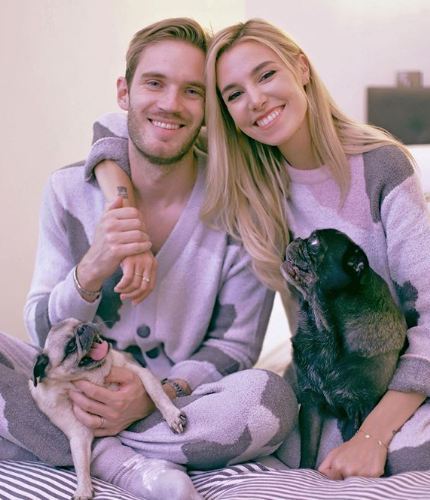 Marzia Kjellberg with her boyfriend, Felix Kjellberg on 12 November 2019 (Photo: Marzia Kjellberg's Instagram)
Their relationship got so stronger that, in 2012, Felix moved to Sao Paolo to be with his partner.
However, after they spent some time in Brighton, England, on their vacation in 2013, they both chose to live there.
Their Married Life
After spending more than seven years together, the pair finally decided to take a huge step in their relationship.
On 27th April 2018, PewDiePie planned to propose to his girlfriend for engagement.
On the same date, Marzia confirmed the news through her Instagram post by sharing a picture with a beautiful engagement ring on her fingers, saying "Yes" to Felix's proposal.
After nearly more than one year of being engaged, the duo finally tied the wedding knots on the 19th of August 2019. The bride, Marzia, donned a beautiful gown, whereas the groom wore a stylish black suit on their special day.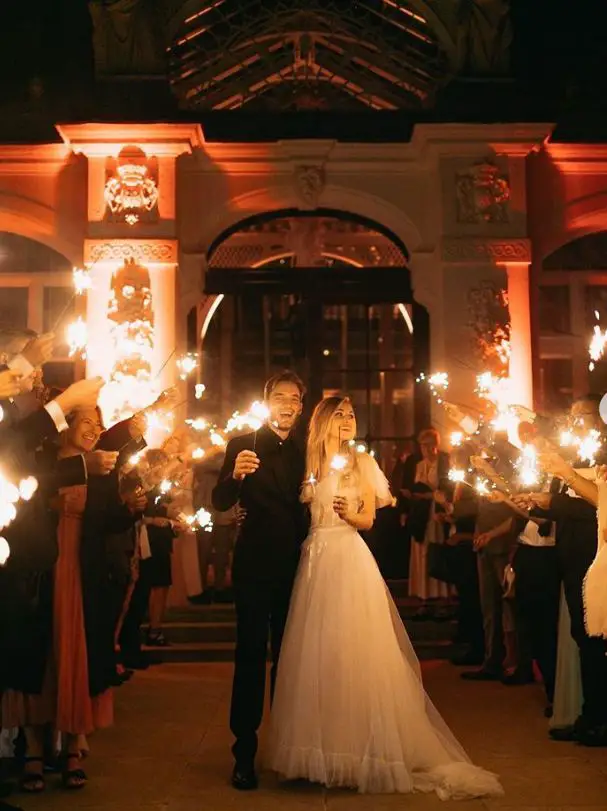 Marzia Kjellberg with her husband, Felix Kjellberg on their wedding day on 19 August 2019 (Photo: Marzia Kjellberg's Instagram)
And, since then, they have been happily living their marital life. 
However, in their years-long relationship, they still are to be blessed with kids. Nonetheless, Marzia and her husband have two pet dogs named Maya and Edgar. 
Husband Details
Born on 24th October 1989, Marzia Kjellberg's husband, Felix Kjellberg, aka PewDiePie, is one of the most successful YouTubers of all time.
Also Read About This Swedish Personality: Joel Kinnaman Dating Life Amid Split With Wife, Who Is Girlfriend?
Besides, his Youtube channel, where he addresses himself as "PewDiePie," has the second-highest subscribers of 102 million, just behind T-series (121 million), and his channel comes first in the number of views with more than 24 billion views.
Further, he was raised in Gothenburg, Sweden.
Wiki-Like-Bio
The fashion designer stands at a height of 5 feet 5¼ inches (1.67 meters).
Born in 1992, the Vicenza native blows up her birthday candles on the 21st of October every year.
Besides, she is the daughter of Marziano Bisognin and Franca Bisognin. Moreover, she also has a sibling, a brother named Davide Bisognin, who is also a YouTuber. 
Her Net Worth
With such an amazing fan following, Marzia has been able to perform several brand endorsements through her YouTube channel as well as in her Instagram profile. 
Besides, she has also specialized herself in fashion, beauty, make-up, and other professions. 
Well, with such an amazing personality, it's sure that she has bagged some handsome amount of cash into her bank account. As of 2018, she has a total net worth of $2 million. 
Moreover, her husband, PewDiePie, has a whopping net worth of $30 million.
Spoke On A Break-in
On 5th December 2019, Marzia notified her followers about the unfortunate break-in they had in their house. Their valuable items from jewelry to luxury goods and special items, that she had collected– all were taken.
She wrote on her Instagram about not being able to hide the shock and sadness. In her words-
I know it is very materialistic, and should be happy with what I was left/have. But I can't hide the shock and sadness with all being taken away, just like that
Although it is not the first time, Marzia and her husband had issues with home privacy.
Back in 2016, Felix posted a video titled "Don't come to my house" saying that fans kept showing up at his door uninvited.