For a lady to make her place as a musician in a well-established band of the 90s, it's not an easy task. Despite her bad auditions, Lyn-Z made her place in the band, Mindless Self Indulgence as a bassist due to her extraordinary impression to the band members.
From then to now, Lyn-Z has been ruling the hearts of the audience through her breathtaking performances for the band.
Lyn-Z Wiki (Age), Real Name & Family
Lyn-Z was born on 21 May 1976 in Dunoon, Scotland. Her real name is Lindsey Ann Ballato. She has not been publically open about her family background and siblings. However, in June 2018, she mentioned that she was raised without a father.
Lyn-Z lived in Ledyard, Connecticut till the age of 17 when she left home and moved to Brooklyn, New York to take up her musical career.
Talking about her education, Lyn-Z studied Fine Art and Illustration in the Pratt Institute in New York and started assisting painter Ron English. She then joined Dolly Parton's cover band, Beg Yer Parton before getting a chance with the then-already-famed-band, Mindless Self Indulgence.
You May Also Like: Tanner Drayton Wiki, Age, Noah Cyrus, Facts
After their bass guitarist, Venessa Y.T. left the group, Lyn-Z auditioned to enter into the band. With the tough audition, Lyn-Z was finally selected as a bassist for the band in 2001.
Lyn-Z's entrance in Mindless Self Indulgence gained her a career setting stardom. She toured with the group until she opted for a break in 2014.
Husband - Wedding, Children
In the course of her musical journey, Lyn-Z also met her musician husband, Gerard Way. Apart from being a musician, Gerard is also a comic book writer and has a net worth of $20 million.
Lyn-Z got married to Gerard Way, the lead vocalist of the band, My Chemical Romance, on 3 September 2007.
The musician couple met during a music festival and tour called Project Revolution, which was organized by Linkin Park.
As per the reports, the wedding took place backstage during the tour for the same project which bound the couple with the unbreakable ties for the lifetime.
Besides, the couple is the perfect example of a musical pair as the beginning to the ongoing journey of their togetherness relies on their music.
See Also: Zach Clayton With Girlfriend? Dating Status, Age, Height, Parents, Siblings, Family
Their love for music somehow or the other connected them in such a way that the two didn't take long to decide that they wanted to have children with each other.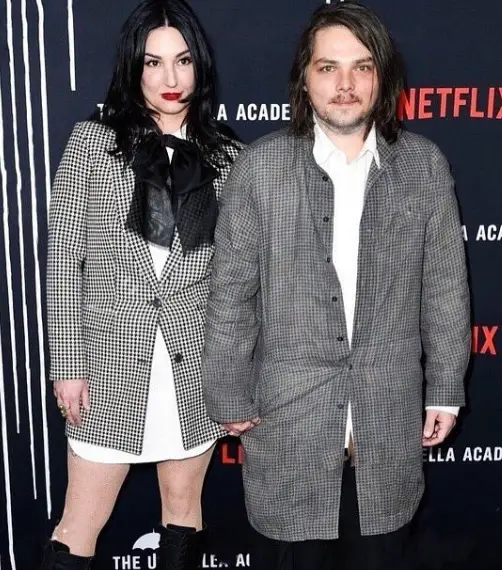 Lyn-Z and her husband Gerard twin their looks on 14 February 2019 (Photo: Lindsey Way's Instagram)
On 27 May 2009, the musical couple welcomed their daughter Bandit Way to this world. The daughter of the musician parents, Bandit was born in Los Angeles, California and was nicknamed Baby Way and Lady B by fans.
Lyn-Z and Gerard had documented every stage of the pregnancy, which later made little Bandit famous immediately after her birth.