People these days, especially the youngsters have access to various platforms to showcase their talents to the world.
It is not very difficult to establish your fame and gain a pool of mass as of now.
Lucas Coly is one such progeny, who found success and fame at the age of 20 after taking platforms such as Vine and YouTube to showcase his extraordinary rapping skills. 
Know More About Lucas Coly
Kid Lucas, who is famous as Lucas Coly is an Instagram star as well as the French-American rapper born on 8 July 1997.
Lucas has mentioned that with the name, "Lucas Coly," he feels more like himself, which doesn't happen with his original name Kid Lucas. In one of his interviews, Lucas has revealed the significance of the name he carries with himself.
More From Instagram: Ashlyn Pearce Wiki, Height, Parents, Boyfriend, Dating, Instagram
He explained Coly as an African surname and further unveiled that his father was from the West African nation, Senegal.
However, besides the national background of his father, Lucas has not revealed any information regarding his parents. Also, as per some sources, Lucas has a younger brother. 
Love-Life of Lucas Coly In A Nutshell
Talking about his love life, as the Instagram star, Lucas Coly has been dating another fellow Instagram star, Amber H, who is three years older than him.
Regardless of their age difference, the two began dating since 2017. The couple met first on Instagram in 2015 where they became close friends.
Amber is an active social media star, a vlogger as well as an Instagram star. Previously, break up rumors about the duo got the internet by storm leaving their fans broken-hearted.
However, Amber posted the video on YouTube on August 1, 2017, and cleared that nothing wrong was going between them. The couple is happily dating each other, and they are seen posting their photos on Instagram.
The professional connection between Lucas and his girlfriend seem to contribute a lot to making them groom as a couple.
Lucas and Amber have been together for more than two years now. There definitely is not a picture where the couple seems distressed with one another.
They always appear to be enjoying one another's company to the fullest.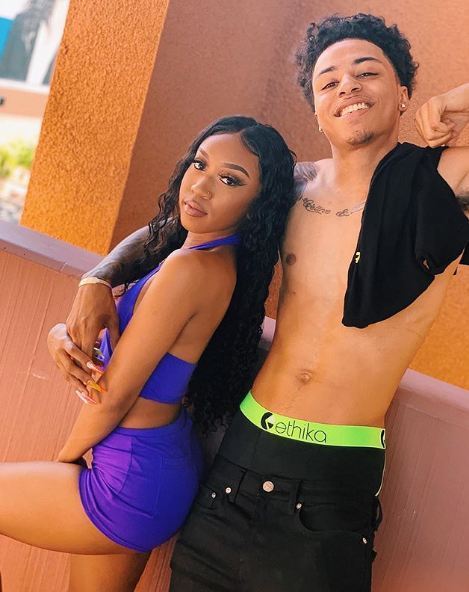 Lucas Coly poses with his girlfriend Amber H on 8th July 2019 (Photo: Amber H's Instagram)
No doubt, a lot of the new generation has much to learn from this sensational couple.
Thus, Lucas and Amber, also as a sense of responsibility to their fans, keep sharing about their life as an individual and also as a couple.
His Net Worth
Lucas is seen on other Social Media sites like YouTube, Facebook, and Twitter and uploads his video on YouTube, as well as release songs on SoundCloud. However, initially, he gained his first popularity from Vine but now, is famous for his Instagram.
See Also: Richard Wisker Girlfriend, Dating, Gay, Parents, Height, Instagram
He was also a part of rap groups like Fryson III, Dillyn Troy, and Diamondz. His music video for his song 'I Just Wanna' reached the view over 4.7 million on YouTube.
In 2013, Lucas Coly first started his as an internet sensation. On 9th July 2013, he uploaded his first video on Vine and initially created rap songs in both English and French which didn't get much attention from the viewers.
Later in 2014, his viewers began to increase and started gaining his popularity. Coly launched his YouTube channel and uploaded his rap videos. His YouTube gained him more success than Vine.
Some of his famous YouTube videos are Feel My Pain, I Just Wanna, Every time I Roll Up and My Lil Shawty. Lucas has released Prince of France (2016), a 20-track mixture. He also published another mixtape I Keep Pushing Vol 1. (2017).
As a famous active social media star, Lucas has earned reasonable net worth.