Lori Harvey is a rising American model who has gained enough success with her modeling and endorsement works for brands like Dolce & Gabbana, TRESemme, and NyQuil & DayQuil.
With her work, she has also ensured a big social media following of over 1.5 million on Instagram and 15K on Twitter.
Her Bio: Age, Height
Lori Harvey was born on 13th January 1997 in the United States. Her zodiac sign is Capricorn while she manages a height of 5 feet and 5 inches (1.65 meters).
Moreover, she grew up in Atlanta, Georgia with an interest in horse riding. She had even thought of competing for horse riding in the Olympics but she, unfortunately, went through a terrible accident while riding a horse in 2015 which left her broken back and injuries in knees.
Interesting: Alison Riske Husband, Family, Net Worth
After her recovery, she decided to pursue her career in modeling as she was not able to continue her equestrian career due to her injuries.
Dating Or Engaged?
Lori Harvey is currently dating Atlanta hip hop star and rapper, Future. She confirmed her relationship with him by posting a close snap of herself with him on her Instagram story while he leans over to give her a kiss on the cheek.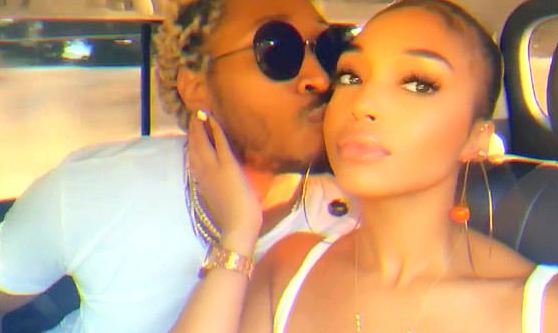 Lori Harvey shares a picture with her boyfriend Future on Instagram story on 11 January 2020 (Photo: Lori Harvey's Instagram Story)
But, it is not confirmed if they are engaged or not. 
Past Relationships
Previously Lori Harvey dated professional soccer player Memphis Depay. Lori's mother even announced that the pair had gotten engaged in June 2017 but shortly after this announcement, they were not seen together.
Later, Lori was said to be in a relationship with rapper Sean "Diddy" Combs. They spent a brief time together flaunting their romantic dating life through social media posts.
However, upon unrevealed date and reason, they were probably separated after Lori began her present new relationship.
Parents: Mother, Father
Lori Harvey was born to Marjorie Bridges and Donnell Woods. Her mother, Marjorie, is a social media and TV personality, fashion designer and blogger. She is known as the founder of the fashion blog, "The Lady Loves Couture." 
Marjorie first got married to drug lord Jim L. Townsend in the early 1990s. Jim ran smuggling rings moving hundreds of kilos of drugs between Houston and Memphis.
Family Related: Deb Farris Wiki, Age, Husband, Salary, Family
In 1991, he was charged with attempting to buy 90 pounds of cocaine and was sentenced to life in prison. However, he was given the 11th-hour pardon in January 2017 by President Barack Obama after serving 26-years in prison. Marjorie separated from him less than five years into his sentence. They have two children: elder daughter, Morgan Hawthorne and younger son, Jason Harvey.
Quickly after her split with Jim, Marjorie began a relationship with another drug dealer, Donell Woods. They welcomed Lori in 1997 and got married three years later. After Donell was sentenced to 37 months in federal prison for selling more than 300 pounds of cocaine and about 250 pounds of marijuana, Marjorie had a brief relationship with her current husband Steve's bodyguard known as 'Big Boom'.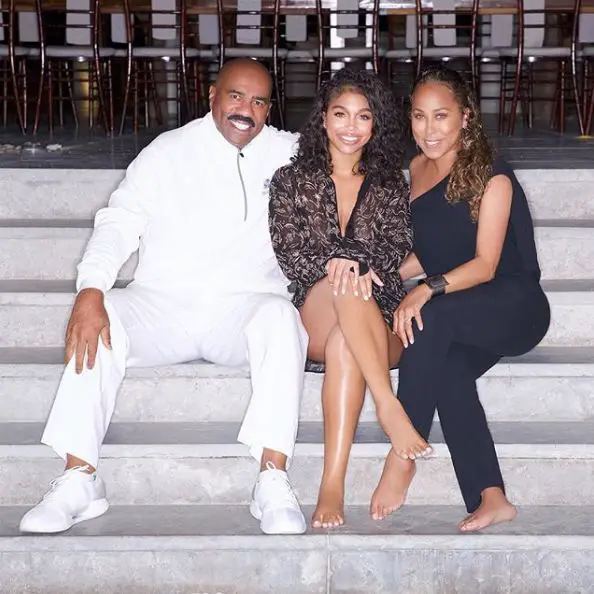 Lori Harvey with her stepfather, Steve Harvey, and mother, Marjorie Bridges on 18 January 2018 (Photo: Lori Harvey's Instagram)
After him, Marjorie began her relationship with Steve Harvey and they got married in 2007. The businessman, TV and radio personality, Steve has also two twin daughters: Brandi and Karli and one son Broderick Harvey Jr. from his first marriage with Marcia Harvey and a son named Wynton from his second marriage to Mary Shackelford. 
Net Worth
According to Celebrity Networth, Lori Harvey owns a net worth of $1 million from her working career as a professional model. 
Hit & Run Case
Lori Harvey was arrested on 20th October 2019 by Beverly Hills Police Department after she hit a parked car. 
With no human injuries, she was only accused of misdemeanor hit and run and delaying police investigation, and was scheduled to appear at the Airport Courthouse on 21st January 2020.
After her hit and run case was covered by media widely, she kept a low profile. However, in late November 2019, Lori reappeared in public by posting a video of her promoting fragrances through her Instagram.