Alison Riske is an immensely successful tennis player, mostly known for her exclusive plays. With her notable victories and experiences, Alison has been able to encourage many in the field of sports.
Alison has been highly impressive in the tennis field ever since her school days. She has remained a member of the winning team at Peters Township High School during the Pennsylvania State Championship. Since then to the present time, Alison has been able to make a considerable contribution as a professional tennis player.
Husband, Boyfriend
 Alison's love relationship was not very revealing to the public during its early phase. She had already been dating her then-boyfriend, Stephen Amritraj for quite some time before she publically revealed it. Alison opened up about her relationship with him only in August 2015 through her tweet reply to a reporter.
There were reports of Stephen doing wrong coaching and using wrong terms with his player. To this, Alison clarified that he is not her coach but her boyfriend. Alongside that particular match, Alison times and again referred to Stephen as an influencer to her.
This relationship of Alison and Stephen took a beautiful turn with their June 2016 engagement. Although the couple remained secretive about their engagement, Stephen's cousin brother posted a picture on his Instagram, where he mentioned Alison as his sister-in-law.
Further, three beautiful years after their engagement, Alison and her Cheif Tennis Officer fiance decided to take their relationship, a step forward. Thus, their long-term relationship successfully turned into marriage in July 2019.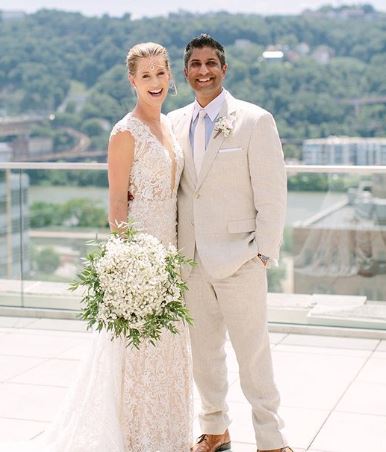 Alison Riske poses with her husband Stephen Amritraj during their wedding on 21st July 2019 (Photo: Alison Riske's Instagram)
Since the time of their engagement, their fans were inquisitive to see the two as husband and wife. Thus, besides the couple's dream's even their fans' wish turned true with their beautiful wedding.
You May Also Like: Jessica Olsson Bio: Age, Husband, Height, Net Worth And More
As of now, Alison and Stephen are living pleasing life as a marital couple. Having different family backgrounds, the two seem to enjoy exploring each other's culture. Besides their unconditional love, Alison and Stephen's respect and gratitude for one another seem to contribute to their beautiful relationship. Hopefully, this bond of Alison and her husband remains the same for a lifetime. And moreover, this helps encourage the young lovers in their relationships.
Bio- Age, family
3rd July 1990 born American Tennis player is 29 years of age in the time being. The lady, standing tall enough at the height of 5 feet 9 inches (1.75 meters), is a Pittsburgh, Pennsylvania native.
Alison was born to a school teacher mother and an FBI investigator father. Alison grew up alongside her siblings, Dan and Sarah, who were both into college tennis. Raised in the family of enthusiastic souls, Alison started off her tennis journey from a young age.
With her fantastic plays all these years, Alison has undoubtedly made her family proud. Hopefully, in the coming years, she makes it to greater success and encourages many in the field of sports.
Her Net Worth
Alison's professional career in the tennis field began in 2008. Ever since then, Alison successfully made, an enormous sum of money through her singles.
See Also: Angela James Bio, Hockey, Married, Lesbian, Single, Family, Now
Alison's long years of attribution in the tennis field has not only garnered her with name and fame but also a satisfying amount of salary and prize money of about $4 million. Thus, Alison has undoubtedly added an impressive number
\to her net worth through all the contributions in the field.