Lilly Ghalichi, named as a "Persian Barbie," is an entrepreneur, designer, author, and blogger. She is an Attorney at Law who came into national fame as a reality personality on Bravo's Shahs of Sunset. 
She reached a great height of success with her beauty and fashion brands such as Lilly Lashes, Lilly Hair, WantMyLook, and GhalichiGlam. 
With a dream of becoming rich and running her own business from a young age, Lilly has accumulated a net worth of $2.5 million as per celebritynetworth.com, through her hard work, dedication, and passion for her profession. 
Lilly Ghalichi Wedding / Married Details With Fiance
Lilly Ghalichi met the love of her life in quite an unusual and odd way. The love she had been waiting for so long was just a floor away and she never even met him until their paths collided. 
She needed an additional parking spot for her Ferrari so, she sought approval from her condo's homeowners' association.
Dara Mir, who was a part of the board, exchanged several emails with Lilly before meeting for the first time in their building's lobby. 
Peek Into The Life Of: Sarah Urie Wiki, Husband, Wedding
Despite being neighbors who lived just a floor apart, Lilly and Dara never met before. But their meeting had some sparks flying as Dara asked her out on a date.
After dating for some months, the pair got engaged. Dara proposed to Lilly on the ground of their future home in Bel-Air at a very special spot on the property. 
At age 34, Lilly married her fiance in a beautiful wedding ceremony held in Beverly Hills at the Beverly Hilton Hotel in May 2017.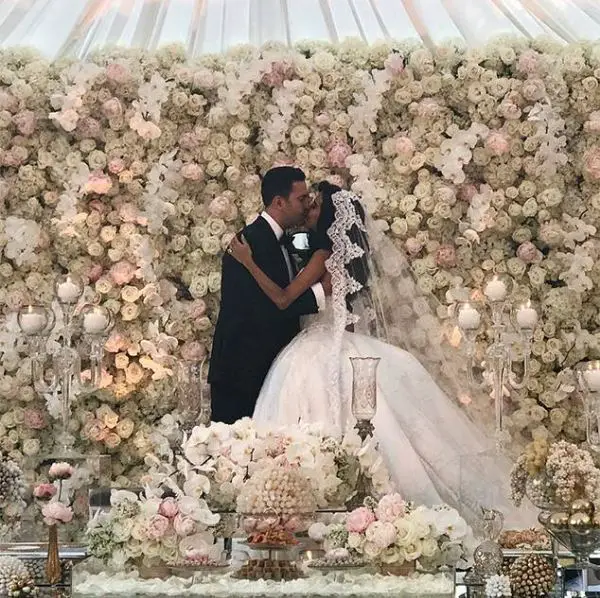 Lilly Ghalichi shared a kiss with her soon to be ex-husband, Dara Mir at her wedding in May 2017 (Photo: eonline.com)
A few months to their union, and on 30th September 2018, the pair made it official on social media about the arrival of their baby girl, Alara Mir.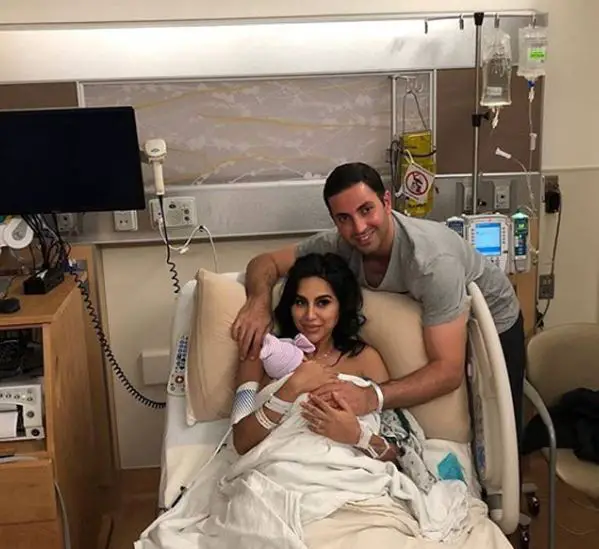 Lilly Ghalichi and Dara Mir with their newborn baby on 30 September 2018 (Photo: eonline.com)
But, before the baby came into their lives, the media buzzed around the rumors of them getting a divorce. Lily had deleted all of the pictures linked to her husband on her Instagram. And the very news fueled the story of their separation.
But later, Lilly had cleared the air with her statement to Page Six,
The rumors being said are exactly that - rumors. Dara and I care for each other very much. He personally is not a public person, and is uncomfortable with my social media.
Lilly sure handled the situation smoothly given that her career does bring some unwanted spotlight in her life.
As of now, it is clear that the split-up speculations that escalated a few months back in February did not spur for no reasons. It seems the couple is surviving the final days to their wedding vows.
The soon to be ex-hubby, filed for divorce in Los Angeles County Superior Court on the 26th of August 2019, blaming "irreconcilable differences" as the cause. As per the court documents, he also urged for the joint custody of their daughter, Alara.
However, Lily, who last denied the matter is yet to speak up. Up until then, it is best to show some patience as we give her some space to terminates the two years of marriage.
You May Know Her: Rashel Diaz Wiki, Husband, Boyfriend, Salary
Before her "I do's" with Dara, Lilly was engaged to Dhar Mann, but then, she broke off the engagement for some reason.
Giving Marriage A Second Try?
Well, it is known that just two months ago, Lilly and her husband ended their married life, citing "irreconcilable difference" as the reason for their split. 
But just two months later, they made their fans believe that they might be giving a second chance to their marriage.
On the special occasion of their daughter's birthday, Lilly, her ex-husband Dara were seen kissing. 
In the photos, Lilly was seen wrapping her arms around Dara as they both leaned in for a passionate kiss. 
And at the party also they were seen almost inseparable.
However, in response to the photos and comments, Lilly said; 
"It's not like anything atrocious has happened between us that would result in us not being able to be friends or not being able to co-parent or whatever the future may hold for us. I think when two people are married there is that really deep connection and deep level of love at some point that brought them to that point that got them to get married and make vows to each other."
Lilly further added, Never say never, and no one knows what the future holds. Hopefully, like the pictures, they give their marriage a second try and become once again husband and a wife. 
Her Bio, Family
Embracing Persian ethnicity, she was first named Neelufar Seyed Ghalichi before she changed it to her current name, Lilly Ghalichi. 
Lilly Ghalichi was born in Houston, Texas, the United States on 30 April 1983. She was born to her parents, Sadegh Ghalichi and Forough Mohammadi, as their youngest child. 
Her parents raised her along with her older brother, Mohammad and older sister, Yassamin. 
As a kid, Lilly watched her parents struggle to become entrepreneurs. Her family didn't have money and wasn't financially stable, so growing up, she dreamed of being rich and having her own business.