Fashion journalist Laura Brown is well-recognized as the Editor-in-Chief of InStyle Magazine. Laura formerly served as the Features and Executive Director of American women's fashion magazine Harper's Bazaar.
Besides her astonishing achievement in fashion journalism, the 44-year-old possesses a resounding personal life. She rejoices in a beautiful relationship with her boyfriend, who is 16 years younger than her.
Is Laura Brown Tied in a Marital Knot? Or Enjoys Dating Life?
Laura has been in an open relationship with aspiring comedian, Brandon Borror-Chappell.
Know About: Rebecca Gleeson Bio: From Age, Married Life With Husband To Children, Job
Laura and Brandon have been together since 2016. The couple's age difference of 16 years has not hindered the couple is having a mutual feeling for each other and falling in love. 
Laura's love life with Brandon is every bit filmy and started initially with a hopeful flirty letter Brandon wrote to the fashionista.
Brandon detailed the initial hookup between the pair in an article 'My Girlfriend Is Way More Successful Than I Am- & 16 Years Older' for website Refinery29 published on 24 January 2017. According to the comedian, he first met the girl of his dreams while he was serving as a waiter at a posh hotel in LA, the Sunset Tower Hotel, where Brown stayed most often as a VIP guest.
The pair started their initial flirting after Brandon hand-wrote Brown's bill asking for her phone number when his computer malfunctioned. Surprisingly, Laura replied to him with her phone number and dared him to text her. Subsequently, they got attracted to one another and went for the first date after Brandon flew to New York.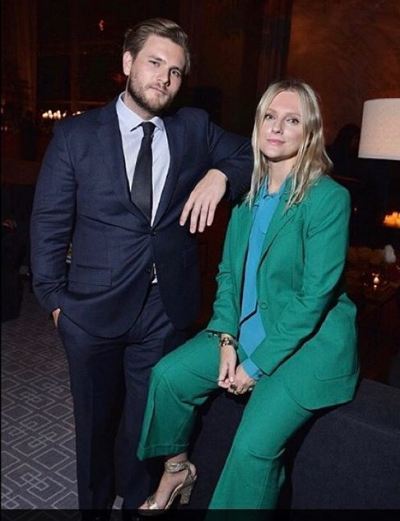 Laura Brown poses with her boyfriend Brandon Borror-Chappell on 9 September 2018 (Photo: Brandon Borror-Chapell's Instagram)
As of now, Laura and Brandon share a massive affection for each other which is evident by their social media posts. The girlfriend-boyfriend duo's Insta wall is littered with cute mentions about each other, and what's more, every outing they make as a couple is chronicled on their Instagram.
You Might like: Emilie Livingston Bio: Wedding To Engagement Details, Jeff Goldblum & Job
For instance, on 14 September 2018, she shared a picture of her sweetheart stating the caption she missed him. Also on 20 September 2018, the pair went for a dinner with a photographer, Franco Pagetti.
With the couple head in heels over each other, it is just a matter of when, not if, Laura will take Brandon as her lawful husband.   
From Australia To America: Laura's Biography
Laura Brown was born on 27 May 1974, in Australia, as the only child to her parents. Brown spent her first years growing up in Camden, a suburb in Sydney's southwest, where her father worked as a dairy farmer.
However, the childhood happiness did not last long for Laura as she had to undergo a family crisis at her young age. When she was five-years-old, Laura's parents couldn't keep their marital bond going and subsequently filed for divorce.
Soon after that, Brown was deprived of her father's love as she moved to Manly, a beachside suburb in Sydney's north with her mother Lola, who worked in insurance and later on moved to North Sydney with Laura.
Growing up in Sydney, Brown graduated with a degree in journalism from the Charles Sturt University. Blessed with an average height of 5 feet 9 inches(1.75m) and a slender figure, Laura was obsessed towards fashion from her early teens.
Laura began her career as a production editor at now-defunct Australian magazine Mode. After two years, she moved to London where she served as an international correspondent for Harper's Bazaar Australia.
After relocating to the US, Laura had her stints on 'W' and 'Details' magazine as a senior editor and subsequently joined Harper's Bazaar.
After spending 11 long years as a Features and Executive Director at Harper's Bazaar magazine, Laura currently serves as the Editor-in-Chief for monthly women's fashion magazine, InStyle.  
On 15 June 2018, Laura opened up about how her career flourished from a small town girl to a leading fashion journalist. She had a conference named How to Make it In Fashion with fashionista's deputy editor, Tyler McCall where she shared her long-running experience about fashion.
Don't Miss: Erin Heatherton Dating Status With Boyfriend; Net Worth, Family & More
Adding one more achievement to her list, Laura launched a new series named, Badass Women for instyle in late June 2018.  According to time.com on 26 June 2018, she said that her main reason to issue the series was for the fearless women, who have fought for rights and equality.
Laura Brown has achieved tremendous success serving as one of the most proactive fashion journalists. Besides the name and fame, Laura summons a handsome net worth thanks to her compelling salary at InStyle magazine, but the actual figures till date remain confined to media.