Erin Heatherton, a well-known fashion model, and actress is best known for her work with the lingerie brand Victoria's Secret. She is very successful in her career appearing in the covers of many reputed newspapers and magazines.
This hottie is also known for her constant change in her love life. She is known to date one of the most successful and charming men of the Hollywood and even an NFL player. Erin is very open about her relationships, but due to her busy schedule, it is tough for her to manage career and love life at once.
Who Is The VS Supermodel Dating?
Being a fashion model for a lingerie brand attracts a lot of fans and men to pursue you! So is the case with the supermodel Erin. She has a slim and perfect body enough to melt any man's heart.
In the past, she dated Hollywood hunk, Leonardo DiCaprio himself. They started dating in 2011 but almost a year later broke up due to their busy schedule. The couple ended in good terms, with no drama following after their breakup. Some wiki sources suggest that there is no bad blood between them and still care for each other. With this, she became one of Victoria's Secret models that Leo dated.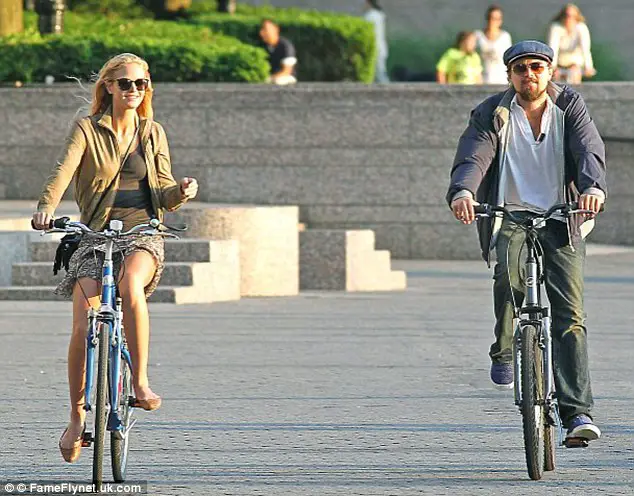 Erin and her ex-boyfriend Leonardo DiCaprio.(Photo: DailyMail)
Following the breakup with Leo, she was rumored to date a former American football player Jordan Cameron. The rumor of their dating started dating in 2012 and stayed for a couple of years. Some of the wiki sources confirm their dating timeline while the star did not make any comments. In 2014, the duo separated and again Erin was in search of a new boyfriend.
Again in the same year as her breakup with Cameron, Erin was still into dating with Australian musician, DJ, and a songwriter, Felix Bloxsom. Model 'Bambi' Northwood-Blyth first introduced them. After this, the two could not stop themselves from sparking fires of love and eventually fell in love.
Short Bio of Erin Heatherton
The 28 years old model, Erin was born on 4 March 1989 in Skokie, Illinois. She was born to parents Mark and Laura Bubley. She was named as Erin Heather Bubley by her parents but later changed it. Erin's both parents are of Jewish descent and were thus raised in a Jewish family tradition.
Erin attended a Jewish day school, Solomon Schechter Day School. After this, she joined Niles North High School.
When she was on vacation in South Beach, an agent recognized her potential and first appeared in Diane von Furstenberg runway show. And since then, she has worked with many reputed brands and designers. With these years of succession, she has accumulated a net worth of over $7 million. 
Being a model is not easy, and as per Erin, it's not at all comfortable being Victoria's Secret models. She has a well-regulated workout session and controlled diets. Erin does not focus on a specific body part but follows a well-established weight loss plan to keep her weight in order.