Only a few people in the world has solved the cases as much as the American attorney Larry Bakman. Altogether, he solved 500 federal and state criminal cases.
However, that only does not define his career to its full extent. In his life, Larry has also played the role of one of the judges in CBS's reality show Hot Bench for the first two seasons.
Larry Bakman's Biography (Age)
Larry was born in Detroit, Michigan. Although his exact age is a mystery, it is known that he possesses good height and fit body.
For education, Larry attended the University of California in Los Angeles. He graduated cum laude in his undergraduate program. Later, he obtained a Juris Doctorate from Southwestern University School of Law.
Hot Bench
As soon Larry was done with his formal education, he embarked on his attorney career. In the initial stage, Larry began his practice with a strong emphasis on criminal defense.
Similar: Amanda Balionis Age, Bio, Married, Boyfriend, Engaged
Among his numerous cases, one that, unusually, stands out was the one in which he successfully defended offenses brought under RICO act. In the lawsuit, where his client was charged with triple homicide accusations, Larry, after an 11-month trial, acquired dismissal on all charges for him.
Besides, Larry has also broadened his career by working as a Judge Pro Term for the West Los Angeles Municipal Court and Van Nuys Municipal Court. 
Furthermore, he served one of CBS's reality TV series Hot Bench for two years. He served alongside other two judges, Tanya Acker, and Patricia DiMango. However, he left the show in October 2016 to concentrate more on his law practice.
Larry Bakman Family - Wife
It should not be a big shock to the people who have been following Larry Bakman for a long time to know that Larry Bakman is a married man. Larry's marriage anniversary falls 3rd of November. Larry has kept the identity of his wife under the veil; however, he has posted some photos with her.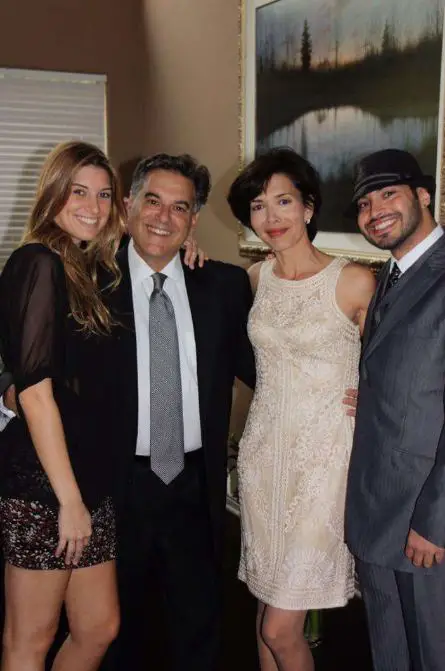 Larry Bakman takes Facebook as a platform to share the picture of his adorable family (Photo: Larry Bakman's Facebook)
Together, the couple has two children, one son named Brett Bakman, and a daughter named Paige Michelle. His son's birthday falls on March 7 whereas his daughter birthday falls on April 14. Larry often flaunts the photos with his wife and children in his social handle.
Interesting: Is Robin Stickley Married? Blessed With Baby; Husband, Boyfriend & Pregnant Details!
Larry loves to spend time with his family and often takes them on vacation. On multiple occasions, he has shared the photos of his sweet family vacationing around some exotic places. Undeniably, attorney Larry has a bright life, both personally and professionally.