Khatira Rafiqzada is a former actress who has acted in movies like Chain Letter (2009) and Layla (2009).
However, it is not her profession that has made her popular among people—she is widely known for being the wife of famous American actor Michael Ealy.
Married Details With Actor Michael Ealy
Khatira Rafiqzada has been married to 'Barbershop' actor Michael Ealy since October 2012.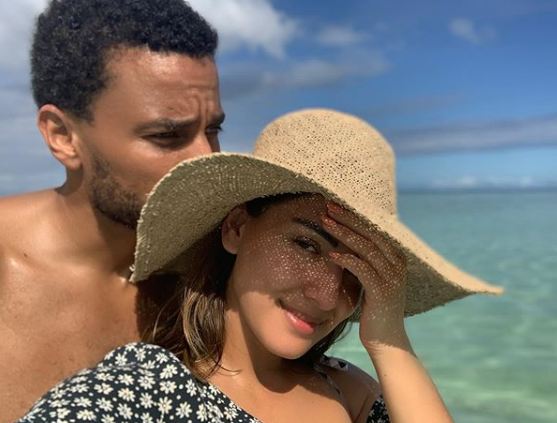 Khatira Rafiqzada and her husband Michael Ealy in Hawaii on 1 January 2020 (Photo: Khatira Rafiqzada's Instagram)
The couple held their wedding ceremony in Los Angeles in attendance of close friends and family members. The news of their marriage went public a few times later, as both Khatira and Michael wanted to spend private time with each other after tying the knots.
As per Michael's reporter, 
"Michael has always been a private guy, and he wanted to enjoy his time as a newlywed with his wife privately. Now that some time has passed and the holidays are here, he wanted to share the news with his fans that he is married and very happy."
The couple dated for almost four years prior to sharing wedding vows.
Children
Khatira Rafiqzada and her husband Michael Ealy are parents of two children: a son, Elijah Rakim Brown, and a daughter. The couple's first child, Elijah, was born in 2014, whereas their second child, a daughter, whose name is not disclosed yet, was born in 2016.
Khatira Rafiqzada's Birthday, Wiki
Khatira Rafiqzada was born on 4 March 1981 in Kabul, Afganistan. Over the years, she has lived in various places, including India and East Bay, California.
Interesting: Who Is Jane Musky? Meet 'Scandal' Star Tony Goldwyn's wife
Besides her original name 'Khatira Rafiqzada,' she also prefers to use her name as Khatira Brown—Brown is her husband's original last name.
Five Interesting Facts About Khatira Rafiqzada
Khatira Rafiqzada is usually active on Instagram. Her Instagram's username is @lifeandbread and has over 8 thousand followers.
She also has a younger sister who goes by the username @hailai23 on Instagram.
She celebrated her New Year 2020 in Hawaii with her husband Michael Ealy.
Her husband Michael Ealy has a net worth of $3 million. He has earned the majority of his wealth from his appearances in an off-Broadway stage production since the late-1990 as well as appearances in films like Bad Company, Kissing Jessica Stein and 2 Fast 2 Furious.
In 2007, her husband Michael was nominated for a 'Golden Globe Award for Best Performance' by an Actor in a 'Miniseries or Motion Picture Made for Television' for Sleeper Cell.