A lot of people might know Keven Undergaro as the husband of his superstar wife, but very few know about how important he has been in getting her to the place she is today.
Keven Undergaro is known for his online broadcasting network AfterBuzz TV's director, producer, and screenwriter in the Hollywood industry, who has been the base to establishing his wife, also a writer and producer, in the industry.
With his undefeated nature, the man has successfully built a great career as well as a lovely family with his wife.
Wedding With Maria Menounos, Children
Keven Undergaro got married to his two-decades-long girlfriend, Maria Menounos, in Live TV wedding on FOX's New Year Eve broadcast in December 2017. Before getting married, the two got engaged live on Howard Stern's show on 9 March 2016.
Keven and Maria underwent two different wedding ceremonies. Ten months after their live show wedding, Keven again got married to his wife, Maria, in a Greek ceremony where Maria's family belonged.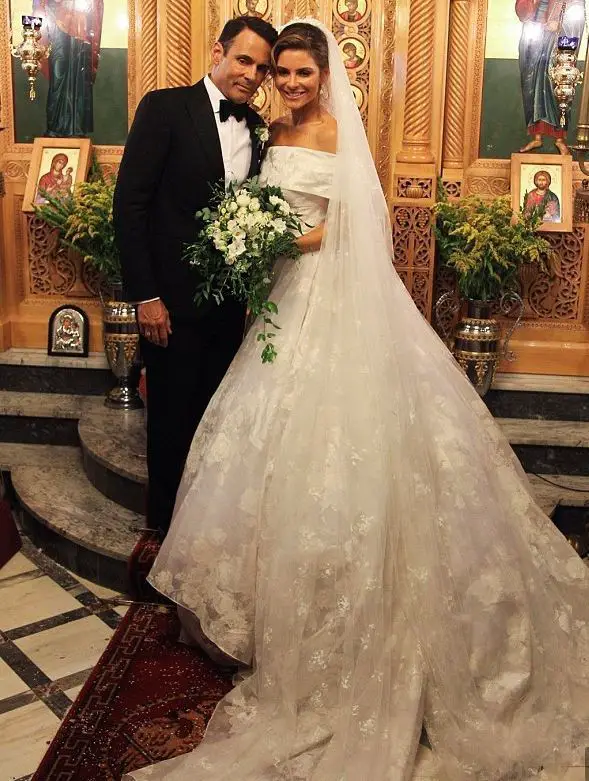 Keven Undergaro poses with his wife Maria Menounos during their Greek wedding in October 2018 (Photo: dailymail.co.uk)
Keven and Maria's unconditional love is apparent in the time they have been with each other. But more than the time, it's their dedication and respect for each other that makes the couple inseparable.
Every love has a unique story to tell, and Keven and Maria's is one utterly unmatched in the level of uniqueness.
Don't Miss: What Is Cash Warren's Age? Bio, Wife, Wedding, Parents, Ethnicity, Net Worth & More
Maria, in one of her interviews, revealed that her parents were completely against her relationship with Keven. She mentioned that her strict Greek father disowned her from the family as she was dating the man who had a different native background than of her.
However, later, when she and Keven came to Los Angeles and started setting up their Hollywood career, her father apologized to Keven. Thus, the family got together and have supported them ever since.
As of now, Keven and Maria have stood out well as a married couple. Regarding the matter of children, the two are thinking of having their first baby through surrogacy.
Maria has revealed that she has been getting ideas from her friend, Kim Kardashian West, regarding surrogacy. Hopefully, Keven and Maria establish themselves well even as parents, apart from the best they are as a couple.
Keven's Bio: Age, Parents
Born on 18 November 1967, the famous writer and producer, Keven Undergaro is 51 years of age in the time being. Kevin is a Massachusetts born man, whose ethnicity roots back to Italy. 
However, unlike his wife, Kevin has not revealed much about his family background and parents. He has concealed the facts regarding his life with his parents and, simultaneously, the initial stage of his Hollywood career. 
See Also: Beth Smith Children, Weight Loss, Cancer, Now- Facts You Need to Know
Further, Keven has also not unveiled the details on his physical attributions. Thus, the aspect on his height is still under the wraps.
However, in most of their pictures together, Keven looks quite taller than his wife, who has a height of more than 5 feet 7 inches (1.70 meters). 
His Net Worth
Keven has been a hugely successful American director, producer, and screenwriter.
With all his hard work and compassion, Keven has earned a reputed place for himself in Hollywood. And after all these years of his dedication to his work, Keven has amassed a total net worth of $10 million.
Further, the man has also had a significant role in introducing his wife in the Hollywood industry. He is exceptionally proud of his wife, who has a net worth of $9 million, as of now.