Kenny Goss is a Texan art dealer, who is renowned for his long-term relationship with the late famous music artist, George Michael. Kenny and George were together for about thirteen years before they split, and stayed friends even after the breakup.
After George's death in 2016, Kenny was undoubtedly heartbroken because of the loss of his best friend and beloved, but how did he react?
Also, where is Kenny Goss now and is he dating someone new after losing the love of his life? 
Kenny Goss Wiki-Like Bio, Age
Kenny was born on 17 September 1958 in Bromwood, Texas. His bio reveals that he is the son of Earl Goss and Ozzell Goss. He was raised in his birthplace by his parents alongside his brother Tim Goss. 
Kenny's family was not healthy, and he led a difficult childhood as his parents were alcoholics. Even though Kenny Goss was very close to his family members, he was initially hesitant to come out to his parents and hid his sexuality.
To conceal his homosexuality, he went as far as to date Miss Texas, but later gathered the courage and talked to his parents. Opposite of what he had thought, his parents accepted him and his identity as gay.
According to Kenny's wiki, he studied in the University of North Texas and was a part of the cheerleading squad.
After graduating from the university, Kenny started his career by working at the Herkie Herkimer's Cheerleader Supply Co., where he sold the cheerleading supplies.
At the age of 60, Kenny is successful and at the height of business, so now his deals are calculated in millions.
Kenny Goss Married To Partner After Split With George Michael?
Kenny Goss started dating men after he came out of the closet to his parents. Before his relationship with huge star George Michael, he was not in the spotlight. So, most of the information about his previous relationships are not yet publicized.
Kenny Goss met the Careless Whisper star George Michael in the Fred Segal's restaurant in Los Angels in 1996. At that time George was mourning the death of his partner Anselmo Feleppa, who had passed away in 1993. George and Kenny soon started dating, and George believes that Kenny supported him a lot through the dark times.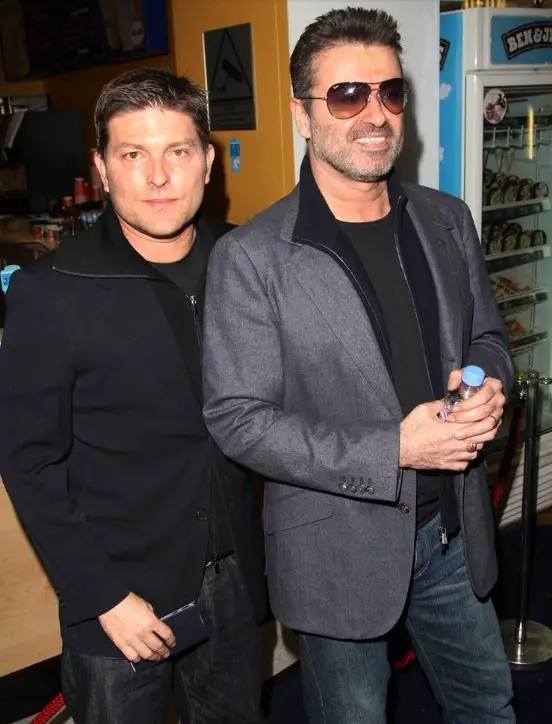 Kenny Goss attends an event with his boyfriend George Michael on 18 November 2007 (Photo: gettyimages)
Kenny and George were never married, but definitely in love and rejoiced their openly gay relationship. They attended programs together, and no matter what George did, Kenny was his biggest fan. They were seen in several programs holding hands and being smitten by each other.
George revealed in several interviews that he was madly in love with Kenny and was more than grateful to cherish his presence in his life. George also said that he would love to die before Kenny because he did not want to live without him. 
However, the relationship did not last long because George suffered from depression and was a drug addict. After George's mother's death in 1997, he was despondent and could not fight with depression. His battle with drugs and depression caused him several troubles and even got him arrested at times, and these traumas led him to be suicidal.
Kenny supported George for a long time, but the internal conflicts caused a lot of problems, so they decided to part ways in 2009. The news of the split was only publicized after a few years when George talked about his relationship with Kenny in an interview. In the interview, George reported that he was very vulnerable but would always love Kenny.
Worth The Read: Just Brittany Wiki: Married, Real Name, Origin, Net Worth
Even after the split, Kenny and George did not have hard feelings for each other and still supported each other. In 2010, Kenny was seen accompanying George to the court when George was arrested for substance abuse and even went to look after George in the hospital when he suffered from pneumonia in 2011.
When George died due to heart failure in Christman 2016, his body was found by his then partner, Fadi Fawaz. Kenny expressed his sorrow and said that George's death was an unbearable loss for him.
Where is Kenny Goss Today?
After George's death in 2016, Kenny Goss claimed a considerable portion of his late partner's multi-million net worth. George's net worth, which was estimated to be around $200 million, was passed onto his sisters Yioda and Melanie. However, both Kenny and George's ex-lover Fadi Fawaz hired a lawyer and claimed a part of the fortune on the account that they helped George during his hard times.
Also, both Kenny and George were avid art lovers and had a vast collection. After George's death, the art pieces only gave pain to Kenny and reminded him of the heartache and George's death, so he decided to sell everything on auction. The collection of art created by the contemporary British artists was sold for over $15 million 
Today, Kenny is selling the art collection and helping George fulfill his philanthropic efforts.