Renowned as the prosecutor who never "loses" whether it's about her cases or arguments, Kelly Siegler is the former Harris County, State of Texas prosecutor.
Kelly has been the Bureau Chief of the Special Crimes Bureau including divisions and departments like the Major Fraud Division, the Identity Theft Division, the Consumer Fraud Division, the Asset Forfeiture Division and Major Offenders Division and more.
From winning 19 out of 20 death penalty cases to playing the lead role of the crime TV show, Cold Justice, Kelly Siegler has been able to garner a considerable amount of net worth with her top-notch career.
Kelly Siegler Married, Husband
Strict when it comes to law and justice, Kelly lets her disciplined lawyer side a little loose when it comes to her personal life.
Married to husband Samuel Lewis Siegler II on 9 July 1988, her partner is a primary care doctor who works at Houston Texas. Samuel studied Family Medicine Residency at the University of Texas Medical Branch, Galveston.
You May Also Like: Bill Karins Married, Gay, Family
Although the duo is in two different worlds of professions, they dedicate all their spare time to each other and their children.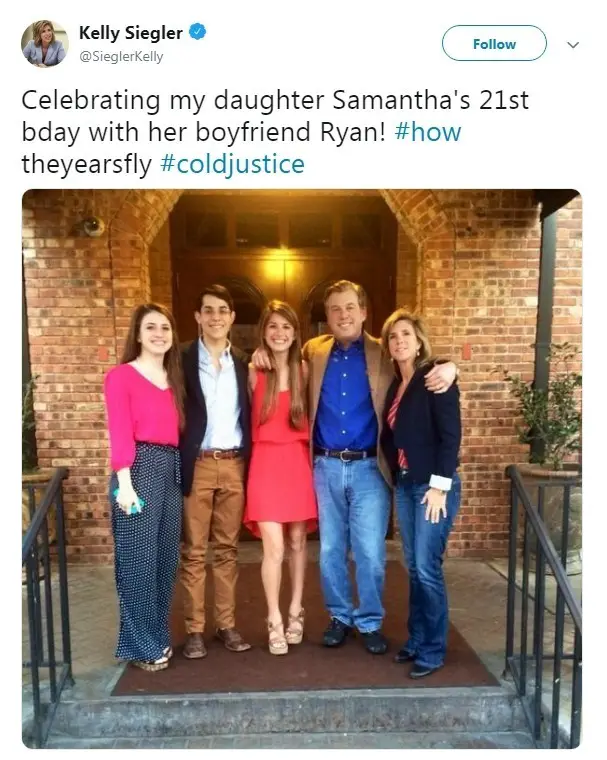 Kelly Siegler wishes her daughter Samantha a happy birthday with a picture of her family and Samantha's boyfriend on 16 March 2014 (Photo: Kelly Siegler's Twitter)
Raising two daughters Kelsey and Samantha in the family, the husband and wife duo is living a blessed life with them.
Kelly Siegler Biography - Age, Family
Kelly Siegler was born on the 12 October 1962 in a family in Blessing, a small town of 900 people in Texas USA. She stands tall at a height of 5 feet 10 inches (1.77 meters), as per her bio.
Kelly's parents, Billy Jalufka and Evelyn both divorced when she was only thirteen. Her father operates a barber shop and liquor store in Texas; however, her mother is not anymore in this world. Evelyn left Kelly when she lost her battle to cancer in 1999.
Being a brilliant student from an early age, Kelly graduated as the valedictorian from Tidehaven High School located in El Maton. After her time at Tidehaven, she earned her International Business degree in 1984 from the University of Texas in Austin.
Know More: Robi Ludwig Wiki, Age, Wedding, Net Worth
Kelly didn't stop to continue her education as she went onto attend the South Texas College of Law, graduating with a Law degree in 1987.
Kelly Siegler Net Worth / TV Show
Kelly is known for being the prosecutor you never want to come across in a courtroom. She has already retired as of now; however, during her time in this field she has been able to make a name as one of the most respected criminal defense attorneys.
The prosecutor has fought approximately 200 jury trials and has won all the 68 murder cases she has defended.
Kelly has also traveled to different states to speak on topics like Final Arguments, How To Pick a Jury and more.