To make space for yourself in the public eye requires more commitment than glamour. As you get into a reality show, your life is a general entertainment but the way you handle it is the place you make for yourself in their regards.
Kalani Faagata rose to fame from the TLC reality show, 90 Day Fiance and with her extraordinary approach of living, she successfully made herself a star in very less time.
90 Days Fiance has a theme that features all new faces for a season. Establishing your own image leaving behind the others is definitely a hard-core game. Thus, Kalani has decisively proven herself by making her own identity from the show and is now a star figure.
Kalani Faagata Wedding Details With Husband
Kalani met her husband Asuelu Pulaa in Samoa during her vacation. The couple met in a resort which Asuelu managed. The two were featured on the sixth season of the TLC reality show 90 Day Fiance.
Although Kalani's immediate family did not trust Asuelu at first, Kalani convinced them about him. So, the couple ended up getting married on 31 December 2018.
You May Also Like: Russ Mayfield Wiki, Age, Job, Net Worth
The wedding of Kalani and Asuelu took place on a boat in California. Kalani wore a lace dress that made her look flawless and elegant. The reality star walked down the aisle with her groom and committed for a new journey with him as husband and wife.
Welcomes Baby! Pregnant During Wedding
Kalani finally gave birth to her second baby on 8 May 2019! 
She was already a mother of her son Oslen with Asuelu before the couple got into marital ties. She was pregnant with her second son with her fiance when she walked down on her wedding gown.
Before her second baby's birth, Kalani mentioned that she was a few days overdue with her baby and asked her followers to give her tips on inducing labor naturally.
The baby was born four days later. Kalani also shared a video of her contraction phase during his birth to her fans who were eagerly waiting to see her second baby.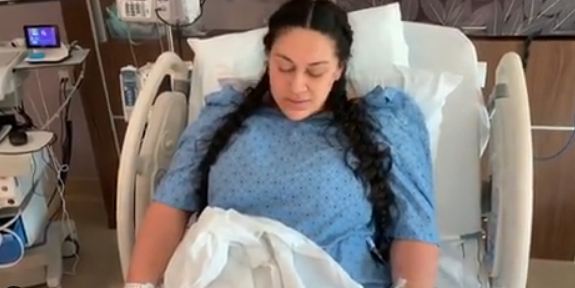 Kalani Faagata during her contraction period while giving birth to her son Kennedy (Photo: Kalani Faagata's Instagram)
The couple named their son Kennedy, an English name of Kalani's father.
See Also: Mohamed Jbali Bio, Net Worth, Girlfriend
The reality-made couple are now the parents of two kids. The couple seems more than excited to share their parenting journey with their fans, who are equally excited to know more about their kids and their life as parents.
Kalani Faagata Wiki, Age
Born on 2 July 1988 to Lisa Lawton Fagaata, Kalani Faagata is 30 years of age. The Orange County, California born reality star has not revealed much about her family background. 
However, the only known fact is, until her 20s, Kalani was raised in the Mormon LDS faith. Besides, Kalani also has a sister Kolini Fagaata, a professional photographer who has always supported Kalani throughout all the highs and lows of her life.