Jo Green is a celebrity wife who is mostly recognized as the spouse of the multi-hyphenate Hollywood star Hugh Laurie.  Although she often appears on tabloid headlines tagged along with her husband's name, Green's personal details is, however, scarce. 
Jo Green's Married Life With Hugh Laurie
Green and Laurie, married since 16th June 1989, have been each other's biggest support through thick and thin for over three decades. In the entertainment industry, where a long-term relationship is a rare sight, the couple is exemplary. 
However, keeping the relationship alive for such a long time hasn't been easy for the couple. Laurie's profession, which demands him to travel away from his family for most of the time, definitely brought some difficulties in their personal life. 
In a rare conversation with Dailymail in 2010, where Laurie talked about his work's impact on his personal life, he said, 
I wouldn't say that doing the series has made my marriage easier. Better? I don't know about that either.
Laurie, who is extremely private about his personal life, surprisingly opened up about the pressure his job had created when the actor had to stay away from his family. Speaking on that note, he further added, 
Doing weekly TV is like joining the Navy and going on the other side of the world for ten months of the year. But the truth is that whatever challenging situation you're in, somebody somewhere has got a much more extreme version. So I think one ought to shut up and not moan about it.
During his shooting for the American Tv series House, the actor had to remain in Los Angeles for several months. 
Subsequently, the distance with his family, who at the time lived in their North London home, began taking a toll on him. Not just Laurie, Green was also affected by Laurie's demanding filming schedule. 
Regardless of the disadvantage brought along with Laurie's successful profession, Green and Laurie managed to keep their bond intact for all these years and still remain married. 
Jo Green with her husband, Hugh Lorie, taking a walk down the street on a hot sunny day. ( Source: Dailymail)
Their Children
The pair has two sons and a daughter altogether, Charlie, Bill, and Rebecca, from the decades-long marriage. 
Charlie, their first child, was born in 1988 before the pair tied the knot. Later, after Green and Laurie took their vows, they welcomed their second child, Bill, in 1991 and their third child, Rebecca, in 1992. 
Talking about his children, the actor once shared, 
It's a very difficult thing [being away]. I constantly marvel at how grown-up my children are, how grown-up they're being about this. I worry about parenting at this sort of distance, but they are being so generous and so cool about it that
Moreover, following the footsteps of Laurie, the kids have already made their debut in the acting business. Charlie can be seen in A Bit Of Fry & Laurie, making a small appearance. Likewise, Rebecca played a part in Wit, while Bill landed a small role in Laurie's sitcom Fortysomething.  
A Short Wiki On Green's Husband, Hugh Laurie
The father of three is a prominent figure in Hollywood who has been in the business since 1981. Laurie has contributed to the industry as an actor, comedian, director, author, singer, and musician.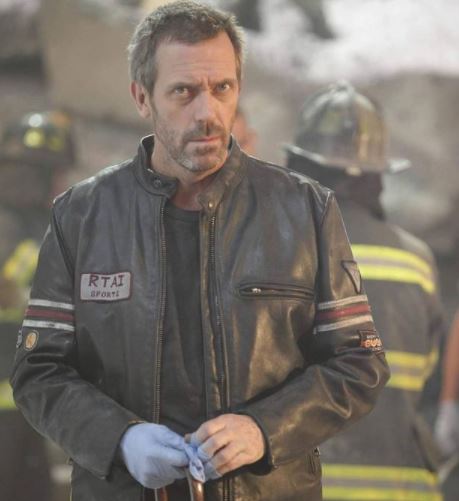 Hugh Laurie from a scene in the tv series House. ( Source: Instagram)
Widely known for the tv series House, the actor dominated the show biz as one of the highest-paid British actors on American television. Reportedly, Laurie earned 250 thousand pounds per episode portraying Dr. Gregory House. 
Starting his vocation at the age of 22, the actor has been in dozens of films and television series along with two record albums, Let Them Talk and Didn't It Rain, under his belt. 
Most recognized for his works in Stuart Little, The Simpsons, House, Blackadder II, Fortysomething, and several more, Laurie is estimated to have gathered a whopping net worth of 45 million dollars.