Jimmy Wong is a Chinese-American actor, host, chef, singer, and songwriter. Most lately, he landed the part of "Ling," one of Mulan's friends in the army, on the highly anticipated live-action version of Disney's Mulan (2020).
He first rose to fame after a racist incident at UCLA in March 2011 when a sorority student shared a vlog rant on Asians using mobile phones in the UCLA library–openly mocking their accent and language. In response, Jimmy made a music video "Ching Chong: Asians in the Library Song" and uploaded it to YouTube, which went viral, receiving wide national news coverage.
Jimmy Wong Bio: Age, Ethnicity
Jimmy Wong was born on 28 March 1987 in Seattle, Washington. He is of Asian (Chinese) descent.
More From Chinese-American Actors: Nina Lu Age, Parents, Ethnicity, 2019
He has an older brother, Freddie Wong, a filmmaker, musician, and actor. Together, the siblings operated Overcrank Media, a production company in Los Angeles that produces online video content and feature films.
About Brother
Jimmy Wong's brother, Freddie, received notoriety back in 2007 after winning the "Guitar Hero 2" competition at the World Series of Video Games in Dallas, Texas. Also, he made it to Forbes magazine's "30 under 30 brightest stars of Hollywood" for the year 2015.
Now, he successfully runs three YouTube channels: RocketJump, his production company's main channel, BrandonJLa, his secondary channel with behind the scenes videos and other content, and Node, a gaming channel. In addition to YouTubing, he is also known for creating the web series Video Game High School.
When it comes to his earning, according to Celebrity Net Worth reports as of 30 May 2012, Freddie garners a net worth of $ 6 million.
Girlfriend?
Jimmy Wong is rumored to be dating DIY/Crafts video producer, Abbe Drake. Although they have not made any announcement on their relationship, Abbe has appeared in many of Jimmy's YouTube videos. She even has posted a lot of pictures with Jimmy's dog on her Instagram.
Previously, he dated Meghan Camarena, an American YouTube personality, for two years before. They called it off in mid-2013.
Work Wife & Work Husband
Jimmy Wong successfully runs a long-haul collaboration, a YouTube channel, Feast Of Fiction alongside his co-host, Ashley Adams. Merging Jimmy's "nerd cred" and Ashley's "culinary wisdom," they present to their viewers, sensational dishes influenced by films, TV shows, video games, and more.
Actors Who Also Contributed To Disney's Mulan: Todd Waterman Wiki: How Much Is Net Worth? Age, Kris Jenner
Having worked together for multiple years, they make a wondrous on-screen partnership and even refer to one another as their work-spouses.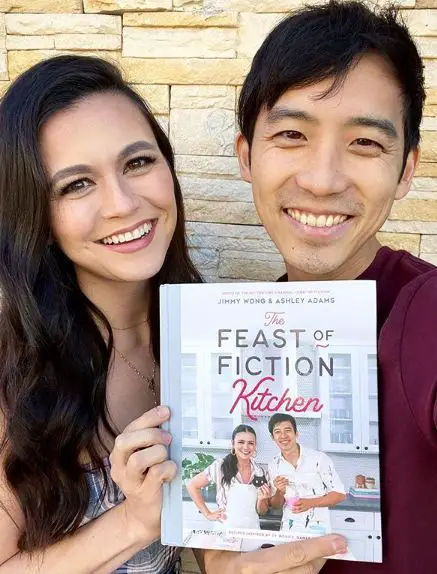 Jimmy Wong and his co-hosts, Ashley Adams on 5 February 2020 (Photo: Jimmy Wong's Instagram)
On 5 February 2020, Jimmy took Instagram a picture of them holding an advance copy of their cookbook, The Feast Of Fiction Kitchen.
Quick Fact On Jimmy Wong
He did not kiss a girl until he was nineteen and didn't have a girlfriend until he was 22. Also, his first relationship with a girl lasted only longer than a month. For that reason, he thought that he was "a straight undesirable."