American native Jenesis Sanchez gained spotlight after she was introduced as the baby mama of the late rapper, XXXTentacion. 
Before gaining fame after the birth of the rapper's baby son, Gekyume Onfroy, Jenesis had not revealed herself to the world. Information on her life behind the name and reputation was not open to the public, until recently. 
Jenesis Sanchez's Baby With XXXTentacion
Jenesis gained popularity after the revelation of her relationship with XXXTentacion, whose real name was Jahseh Dwayne Ricardo Onfroy.
The facts about XXXTentacion reveal that the American rapper, singer, and songwriter was born on 23 January 1998. He reached the height of success and gained recognition and popularity, successfully gathering a net worth of $5 million. 
But sadly, just at the age of 20, he bid farewell to the world. On 18 June 2018, when he was leaving the Riva Motorsports motorcycle dealership in Deerfield Beach, Florida, two armed men shot him multiple times, fleeing the scene in their SUV.
XXXTentacion was soon taken to the nearby Broward Health North hospital, but there, he was pronounced dead. In his will, his mother Cleopatra and brother Aiden were mentioned. 
Don't Miss: Rapper Christ Bearer Wiki, Age, Wife, Height
Before his death, Tentacion and Jenesis were living together. But they were never tied with a marital bond.
After XXXTentacion's death, Jenesis gave birth to their son, Gekyume Onfroy on 26 January 2019.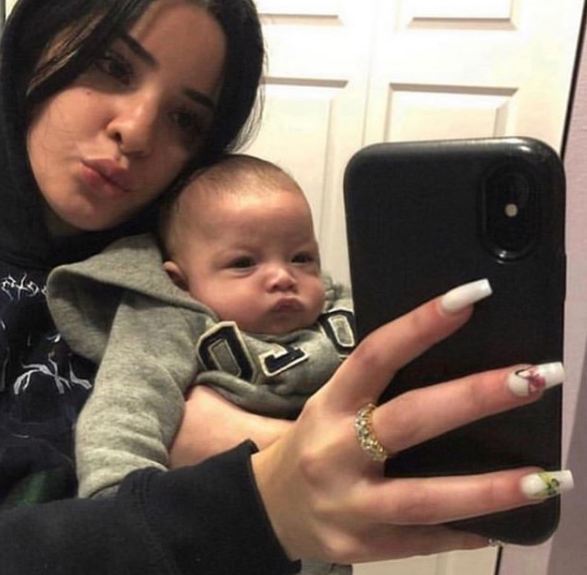 Jenesis Sanchez with her baby boy, Gekyume Onfroy on 16 April 2019 (Photo: Jenesis Sanchez's Instagram)
As of now, she raises her son as a single mother. Being a single mother is very hard, and she is already fulfilling the responsibility as an individual and a young mother. 
Jenesis Sanchez's Battle With XXXTentacion's Mother Over His DNA
Before welcoming her baby into the world, Jenesis' partner, XXXTentacion passed away due to multiple gunshots.
When she delivered her baby, people started contesting that XXXTentacion was not the father of her baby. To prove to the world that her baby's father was indeed the late rapper, XXXTentacion, Jenesis requested the court to allow scientific testing of biological samples of her late partner. 
After her request to the court, XXXTentacion's mother, Cleopatra Eretha Dreena Bernard headed to the court to oppose the petition and demanded it to be dismissed.
Jenesis claimed that she had no particular reason to the paternity other than to establish the late rapper as her child father. 
But, Cleopatra claimed that Jenesis was gearing up to fight for a piece of XXXTentacion's estate. 
Read More: Just Brittany Wiki: Married, Real Name, Origin, Net Worth
However, Jenesis won her battle to obtain the DNA sample of the late rapper against his mother, Cleopatra.
The court has also shut down Cleopatra in an attempt to block Jenesis from getting the sample. 
Her Wiki 
Jenesis was born on 6 March 1998 in the United States. She holds American nationality, but her ethnicity is not known.
Details on her parents, family background, and her childhood remain obscure.