Jamie Shupak Stelter is an Emmy-nominated traffic anchor for NY1, the New York News TV station based in Manhattan, New York City. She has been serving the channel since May 2010. 
Prior to NY1, she has worked as a Food Blogger and a host at thetvdinner.com for seven years since January 2013. She has also worked at Polis Books as an author, Complex Magazine as a dating columnist, WNBC as Fill-in Traffic Reporter, and at WTXF-FOX 29 as a traffic reporter and anchor. 
Jamie Shupak Stelter's Wiki-Like Bio
Jamie Shupak Stelter was born to father, Neil L. Shupak and mother, Helen R. Shupak in Philadelphia, USA. 
Traffic Reporter: Jennifer Reyna Bio: Age, Net Worth, High School, Salary & More
She went to the University of Maryland in 1999 and graduated with a Bachelor of Arts degree in 2003. 
Married Details
Jamie Shupak Stelter is married to Brian Stelter. 
He and Brian first met on Twitter. Jamie was tweeting during the big Christmas snowstorm in 2010 and Brian asked her co-worker Pat Kiernan if Jamie was single. Soon Jamie and Brian became closer and began dating. 
On 22 February 2014, the pair walked down the aisle. Their wedding ceremony was organized at the Sheraton Society Hill in Philadelphia. 
Children
Jamie Shupak Stelter and Brian Stelter are blessed with two children; a daughter named Sunny Ray Stelter (born on 21st May 2017) and a son named Story Moon Stelter (born on 7th August 2019).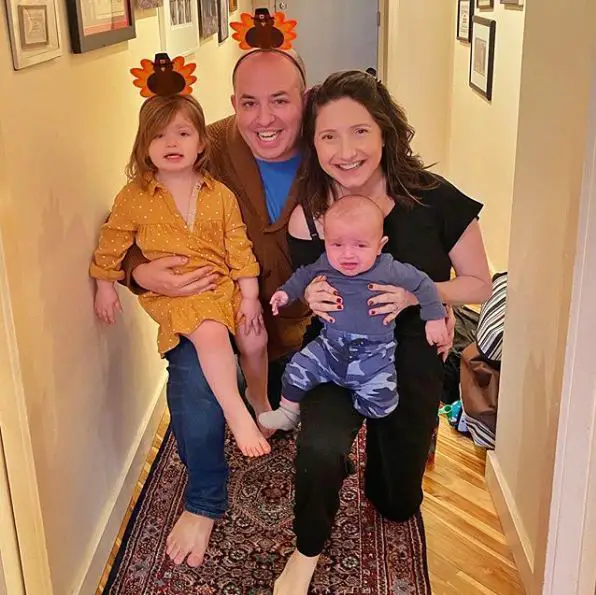 Jamie Shupak Stelter with her husband and children on 29th November 2019 (Source: Jamie Shupak Stelter's Instagram)
However, the path to welcome their children was not an easy one for the couple. When Jamie announced that she was pregnant with her first child in December 2016, she also revealed that she and her husband, Brian Stelter had struggled with fertility and also had two miscarriages. She revealed that for the past two years, the couple had been trying to expand their family. Jamie also reportedly dealt with two D&C's, a PCOS diagnosis and several rounds of both IUI and IVF.  
Who Is Her Husband?
Her husband Brian Stelter is a 2007 graduate from Towson University in Baltimore, Maryland with a bachelor's degree in Mass Communications along with a concentration in Journalism.
Currently, he is the Chief Media Correspondent for CNN Worldwide. He is also the host of CNN's show, Reliable Sources, which examines the week's top media stores every Sunday at 11:00 am. 
Journalist: Marina Marraco Wiki, Age, Husband, Ethnicity
Prior to CNN, he worked as a media reporter at The New York Times from 2007 to 2013. 
Interesting Facts
There is an interesting meaning behind Jamie Shupak Stelter's first daughter, Sunny Ray Stelter. 'Sunny' was taken since her husband, Brian Stelter is a weather geek and 'Ray' is from Ray Lamontagne since Jamie is a huge fan of him.  

Jamie stands at a height of 5 feet and 1 inch (1.54 meters). 

She likes Trader Joe's or Nature's Path flax cereal.  

She works at her news station from 4:00 am to 12:00 pm. 

She is 37 years old, as of January 2020.