The American reality star, Jacob Roloff is prominently known for his appearance in the TLC hit series, Little People Big World.
The series completed its 12th season in 2018.
Since its launch, Jacob has remained as an integral part of the show, which entirely focuses on his family.
Net Worth - How Rich Is Jacob Roloff?
Well, Jacob was one of the main cast of Little People Big World that focuses on the dwarfism prevalent in his family.
Meanwhile, Jacob didn't like the fact of being on the reality show at such a young age. Eventually, he departed from the show during its ninth season. 
Interesting: Who Is Tamra Judge Daughter? Wiki Unfolds Husband, Cancer, Age
Post his departure from the show, Jacob has remained away from the spotlight.
These days he likes to hang around Jackson- Zach and Tori's baby. And his Instagram posts reflect his closeness to his nephew.
Currently, he carries a net worth of $300K. Moreover, his net worth has increased as he published his book, Out To See in May 2018. 
Engagement To Married Details With Girlfriend
Sometimes, being cute can cost a price. Well, who knows it better than Jacob himself?
He timely got tangled in gay speculations due to his cuteness. But, the gay rumors only surfaced to be proven false as Jacob, at the age of 22, got happily engaged to his longtime girlfriend, Isabel Sofia Rock, a social media star, in December 2017.
The duo, however, only made their engagement official via Instagram in January 2018.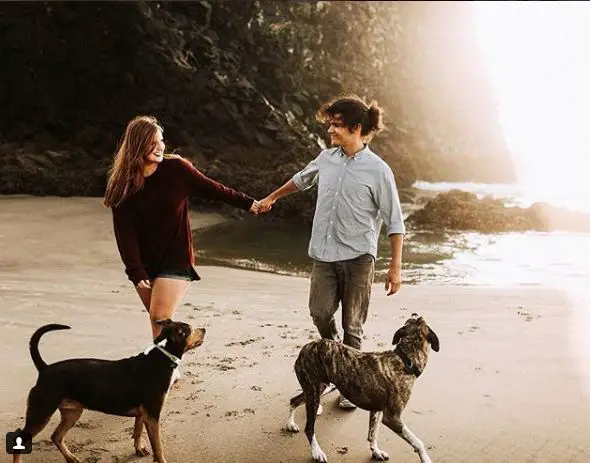 Jacob Roloff spends beautiful moments with his fiancee Isabel on 23 November 2018 (Photo: Isabel's Instagram)
Post their engagement, Isabel faced the rumors of having a baby. It happened after Amy, Jacob's mother uploaded a family photo in her social site where Isabel was holding a baby.
But, the speculations came out to be a hoax. Nonetheless, Isabel soon became another headline in the media as she met a horrific car accident. Luckily, she only got minor injuries.
It would be no wrong saying that Jacob and Isabel's bond flourished after the times they experienced with Isabel's accident.
No way could the couple wait for longer to get into a marital bond. Thus, before the completion of two years with their engagement, Jacob and Isabel decided to get married.
Standing out to the long-drawn wait of family, friends, and fans, Jacob and his long-time fiance, Isabel got married on 7th September 2019.
Jacob Roloff gets married to long term girlfriend turned fiance, Isabel Sofia Rock on 7th September 2019 (Photo: Amy Roloff's Instagram)
The wedding took place in the Roloff farm and was attended by the families and close friends of the couple.
Most of Jacob and Isabel's fans were hopeful of their wedding to be aired on television. However, before their wedding, the couple made clear through social media that their wedding wouldn't be aired on television.
Spontaneously, with their decision, Jacob and Isabel's fans respected their privacy and congratulated them for their beautiful wedding. 
No doubt, this wonderful couple continues with their romantic bond for a lifetime and further, never step back including their fans in the moments of their lives.
Jacob Roloff's Early Life, Family
Jacob Roloff was born on 17th January 1997 in Oregon, United States.
His father Matthew Roloff is an author, motivational speaker, business entrepreneur, author, farmer, and reality star while his mother, Amy Roloff is a TV personality.
Besides his parents, he has three siblings in his family- two brothers named Zachary and Jeremy, and a sister named Molly. His parents and brother, Zach happens to have dwarfism while he is tall with normal height.
Related: Kelly Dodd Bio Unveil: Divorced With Husband? Age, Height, Family
Talking about his family, they have a farm where many varieties of vegetable are grown. The farm is mostly famous for pumpkin, and now it has become as one of the tourist destinations.
But aside the fact, what's is more important to know about his family is that Jacob is said to not have a soothing relationship with his dad. He reportedly blamed his father for ruining marriage with his mom and giving divorce.
However, Jacob posted a family picture on Instagram on 17th February 2018 and stated that the news of his family feuds is false. Further, he praised his dad and claimed that he taught him practical and mindful things in life. 
Aside from being close to family, Jacob loves to play soccer and profoundly adore it. Like Jacob, his siblings are also fantastic players. To fulfill his aspiration studying independently from home, he dropped the school and somehow managed to accomplish his high school education.