Scottish by nationality, Humza Yousaf was first elected as the Member of the Scottish Parliament (MSP) in May 2011 at the age of 26 for the Glasgow region. 
That was when he became the first youngest Minister appointed to the Scottish Government. Also, when he was appointed as Minister for External Affairs and International Development in 2012, he was the youngest Minister who belonged to a background of minor ethnicity. 
In 2016, he was named Minister of Transport and the Islands and worked as the particular Minister till 2018. After that, from 26 June 2018, he became the Cabinet Secretary for Justice. 
Also, since 2016, Humza has been the Member of the Scottish Parliament (MSP) for Glasgow Pollok. 
Facing many difficulties in his professional life, Humza takes his career to great heights of success. His political career is still going strong, and along with his rising career, his salary must have increased as well. But his exact net worth is yet to be estimated. 
Humza Yousaf Wiki-Like Bio, Family
Humza Yousaf was born on 7 April 1985 in Glasgow, Scotland. Humza comes from Pakistani and Kenya descent. His family immigrated to the United Kingdom during the 1960s; his father was from Pakistan, and his mother was from Kenya. He was raised along with his two sisters, Safa and Faiza. 
Humza Yousaf with his entire family on 24 January 2016 (Photo: Humza Yousaf's Twitter)
As for his education, Humza graduated with an MA in Politics in 2007 from the University of Glasgow. During his days as a university student, Humza was the president of the Glasgow University Muslim Students Association and was also involved in the Student representative council responsible for student politics. 
Peek Into The Life Of: WOWT John Knicely Bio: Age, Wife, Family, Salary
Humza's political career has led to him into getting life threats from many. And his family couldn't escape the risks as well, as, in February 2018, his father, Muzaffar Yousaf, was attacked at his home and was rushed to Queen Elizabeth University Hospital. He was released after being treated for facial injuries. 
Still Married Or Divorced From Wife?
Humza met his wife, Gail Lythgoe at SNP Conference at Perth, Australia in 2007 while he was serving as an intern for Alex Salmond. 
Gail is a Ph.D. candidate in International Law at the University of Glasgow. Gail is involved in the areas of legal theory, international law, and global legal history, the law of international organizations, general public international law, international legal theory, critical geography, and political theory.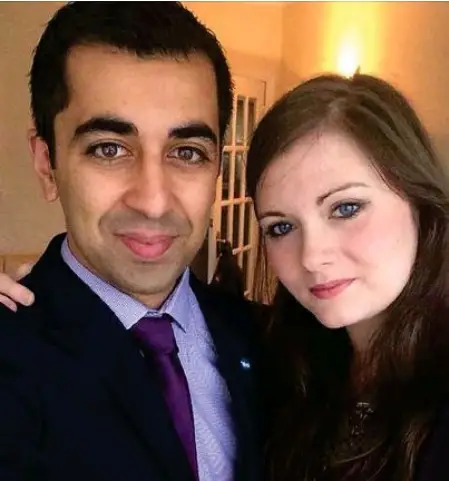 Humza Yousaf with wife Gail Lythgoe (Photo: wikinetworth.com)
The couple dated for three years before they shared their wedding vows. And, taking a step towards a new life, Humza got married to Gail in 2010. 
But after many twist and turns, their long-term relationship came to an end as the couple got divorced in 2016. In their six years of marriage, the couple didn't share any children. 
Also Read: Jim Hoffer Bio, Net Worth, Age, Wife
The transport minister was driving a friend's car near Dingwall when he got pulled over by the police for driving without insurance. He accepted it as his mistake as he didn't realize the change in his insurance details after being separated from his wife. This was when the news of his divorce broke out. 
He addressed it as an honest mistake and paid the fine, also he was given six penalty points at Glasgow Sheriff Court in February 2017.