To the person whose life is an open book, it's really hard to get over harsh times, for there are millions reminding them of that time.
As a part of her profession, blogger and YouTuber Helen Anderson decided to be open about everything happening in her life. Her relationship with her boyfriend-turned-husband ended up badly, which later made it hard for her to get over due to the memories she'd made with him which were all over social media.
The positive side to all was her honesty, which to this date has gained her 591K and 153K subscribers in her YouTube and blogging site respectively. With the passing time, Helen has risen to heights of success and has inspired many on the same path. Along with this, she has made a good amount of property and net worth.
Helen Anderson Bio- Age, Family
Helen Anderson celebrates her birthday on 3 February 1991 every year. Helen is really close to her mother and keeps posting about their bond. She also has a good relationship with her father and stepmother. In fact, in one of her twitter posts, she praises her dad and stepmom's Instagram account.
Helen, born in Suffolk, England, is the youngest among three daughters of her parents. The actual ethnicity of this English woman is still not known as she has not been very open about her family background and her early life.
At the age of 20, she finished her degree in Film and Moving Image Production and headed towards fulfilling her dreams.
Wedding Details With Husband
Helen and Matthew John Taylor started dating in 2014 and got engaged in 2015 after Matthew proposed to her during their Florida trip in September. The couple filmed a lot of videos together and were very much loved and appreciated by their viewers.
Their eathful affinity with one another was totally visible in Helen's videos. So obviously, it was not only the couple but even their fans who wanted the couple to take their relationship a step forward.
You May Also Like: Mia Stammer Wiki: Age, Height, Boyfriend, Dating, Net Worth
The couple got married in July 2017 on a beautiful ceremony. The wedding was attended by their families and close friends. The couple were extremely happy with their husband and wife tag and shared their happiness on social media by posting their wedding and honeymoon photographs.
However, their long term relationship couldn't sustain long after they got into marital ties and ended within a few months.
In one of her 2018 blog posts, Helen shared that she nearly turned alcoholic after her breakup with her husband. She had been in a relationship with Matthew for about three years, which made it more difficult for her to live a solo life.
She also mentioned that she was near to depression. In the meantime, she discussed her situation with her close friends and her manager, which helped her move out of the situation.
Helen Anderson Introduces New Boyfriend
After her heartbreak in the long term relationship with her husband, Helen has met a man who is humble, gentle and makes her feel really special. Helen posted a Q&A YouTube video and introduced her new boyfriend, Mark to her fans whom she met in May 2018.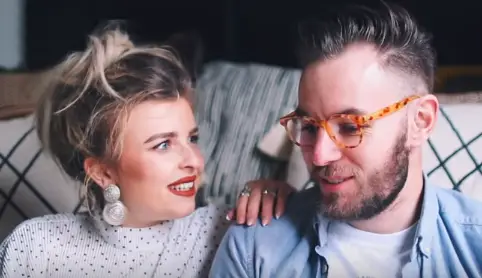 Helen Anderson films a YouTube video with her new boyfriend Mark on Valentine's day 2019 (Photo: Helen Anderson's YouTube Channel)
Her fans were very happy to know about her new partner and wished her for a long run with him.
See Also: Dominic Sandoval Wiki, Girlfriend, Dating, Gay, Parents, Net Worth
Their relationship appears to be more honest and welcoming which hopefully makes them stand by.