Sometimes people questions why we actually need comedy.
Well, the facts remain that comedy and stand-up comedians' funny sayings are among those things that help us to cope with the difficulties of living. 
Stand-up comedians not only do everyday slapstick humor but also open up minds, create social awareness, and change the perspectives of people. 
Alongside comedy, another question also arises- what is a comedy without a talented comedy? 
Stand-up comedy has been wedging itself into popular culture in several centuries, and to this day, the whole concept has become an integral part of the society.
When people come across great stand-up comedians like Gabriel Iglesias, they can't help but celebrate his significant role in lighting up the world through humor. 
Gabriel's comedy is especially a blend of storytelling, characters, sound effects, and parodies. 
Check Out: Klint da Drunk Bio, Age, Wife, Parents, Net Worth
Today, he has earned the name, 'comedy genius' and has been recorded as one of the most-watched stand-up comedians on YouTube. 
Besides comedy, he is also known for rocking Hawaiian shirts, weight-related jokes, and his Hispanic heritage. 
Gabrial Iglesias Married To Wife / Girlfriend?
Gabriel Iglesias has made a name as one of the most successful comedians, and almost everyone knows his name, and his followers are also quite aware of his personal life.
Currently, he is dating longtime girlfriend, Claudia Valdez. He has been dating his girlfriend since 2005 but has not decided to get married and change his girlfriend's tag into a wife. 
Gabriel also has a son named Frankie; well, technically, he is not Gabriel's biological son but his stepson. 
However, Gabriel often refers to Frankie as his son when he is on stage or in tweets.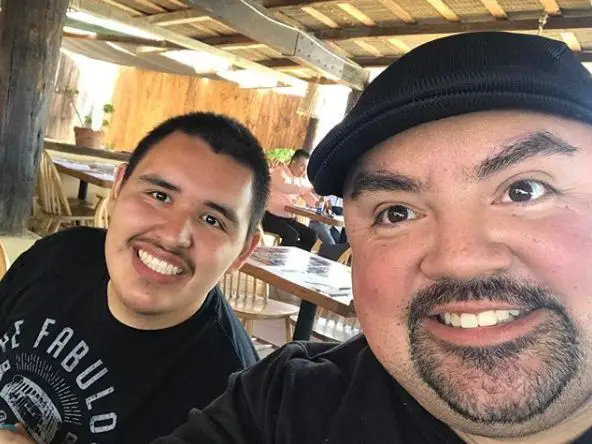 Gabriel Iglesias poses with his stepson, Frankie, on 29 April 2017 (Photo: Gabriel Iglesias' Instagram)
Frankie is Claudia's son from her previous relationship before she met Gabriel. As Gabriel's girlfriend has maintained an incredibly private life, there is not much known about Frankie's biological father.
Although the biological father is not present in Frankie's life, Gabriel is unhesitantly filling the role. 
Now, the family of three is happily residing in Long Beach, California. 
Age, Parents
Gabrial Iglesias standing was born on 15th July 1976 to Esther P. Mendez and Jesus Iglesias in San Diego, California. 
Sadly, Gabrial did not experience the fatherly figure and was only raised by his single mother. Around 2012, he also lost his mother, whom he loved dearly. 
Apart from his family life, talking about his attributes, Gabriel stands at the height of 5 feet 8 inches (1.73 meters). 
He has a heavyset body type, and his weight is around 382 lbs.
At one point in his life, Gabriel suffered from Type II Diabetes and obesity, which made him weigh 445 pounds. 
Gabrial was also warned by his doctor, who gave him two years to live. After the warning, he decided to lose his weight, and for that, his girlfriend gave her full support to him.