Everleigh Soutas is famously known as the toddler fashionista on Instagram. She shares an Instagram account under the name "foreverandforava" with her best friend, Ava Foley.
Side-by-side, Everleigh has appeared in Vogue Australia and has got featured in a campaign for Kardashian Kids.
Everleigh Soutas' Wiki
Everleigh Soutas was born on 14th December 2012 to Savannah LaBrant and Tommy Smith in California. However, her real dad and mother, Savannah, never got into marital bliss. Her mother became pregnant with her at the age of 19. But after the birth of Everleigh, her parents broke up and moved on with their lives.
Check Out: Mariahlynn [Love & Hip Hop] Ethnicity, Pregnant, Parents & personal Life
Everleigh started facing the camera when she was just eight months, and at 18 months, she alongside her best friend Ava began to train themselves in dance at The Rage Entertainment Complex until 2017.
Now, Everleigh dances at Orange County Performing Arts Academy (OCPAA).
Parents; Now!
Everleigh lives with her mother, Savannah LaBrant, stepfather Cole LaBrant, and half-sister Posie Rayne in California.
Her parents are well-known personalities. Her mother is a model, photographer, fashion blogger, and social media phenomenon. On the other hand, Everleigh's stepfather is an actor known for Sanders Shorts (2013), Sadie and Emmie (2015), and Jurassic World: Fallen Kingdom - The Trailer Rescue (2017). Her parents together have a YouTube channel under the name Cole & Sav.
Savannah and  Cole got hitched on 9th July 2017 after dating for a few years. Everleigh became an older sister after her parents welcomed daughter Posie Rayne in January 2019.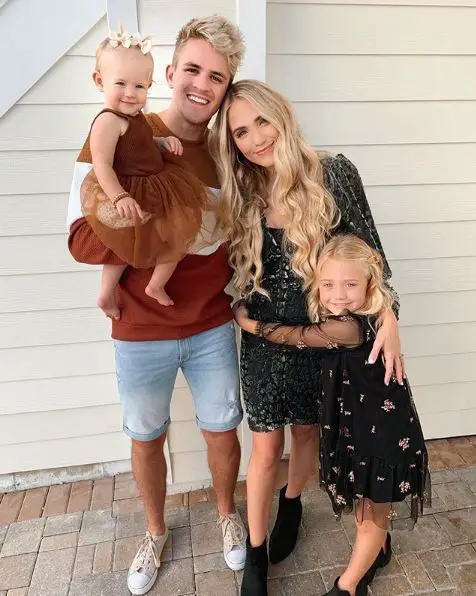 Everleigh Soutas with her mother Savannah LaBrant., stepfather Cole LaBrant, and half-sister Posie Rayne on 29th November 2019 (Photo: Savannah LaBrant's Instagram)
Everleigh is also ready to welcome her second sibling as her parents are expecting a second child together.
Interesting Facts
Everleigh's aunt Chantelle Paige is a singer and fellow social media star.
Her mother, Savannah, and her best friend's mother, Michelle Folley, have started a small kids' clothing shop online called 'The Wild Threads.'
Everleigh started competing in dance when she was just 3 years old.
She is the older cousin of twin sisters Oakley Fisher and Taytum Fisher.
She loves to look stylish, fashionable, and loves to pose for the lens.
Everleigh's stepfather Cole has a cousin named Truman LaBrant "Peanut" (adopted son of Cole's uncle Bobby and aunt Tami LaBrant).
Her grandmother, Deborah Soutas, raised Savannah and her sister Chantelle in a broken.
Her mother was cheated and poorly treated by her real dad Tommy.