Evan Edinger is an England-based American Youtuber, best known for his Puns, British-American comparison series, plus Q&A videos.
Previously known by his YouTube moniker, naveregnide, he also has a secondary channel named 'EvanEdinger,' where he posts his travel vlogs.
Evan first experienced limelight after he uploaded his video series 'Uh-Oh Evan's Got An Opinion' in 2010. 
Later in 2011, he began uploading song covers, vlogs, and sketch comedy.
However, only after he moved to London in 2012, his YouTube career took a big leap. There he became friends with several British Youtubers and a member of their Youtube community.
Is Evan Edinger Gay? Dating Or Married?
Speaking of Evan's personal life, he is living openly as a demisexual person; this means romantic feelings only develop inside someone when they share a very close bond.
The lack of interest in girls developed in Evan when he was in High School; however, he didn't realize that he was demisexual until a friend told him about demisexuality. Later, on 25 January 2015, he revealed his sexuality through a video on his Youtube channel.
Transition, 
Besides, he is neither married nor has revealed anything about dating anyone.
Also Read About: Linda Perry Wiki, Married, Husband, Ethnicity and Net Worth
However, the YouTuber first fell in love when he was 18 years old. But, his relationship didn't last long, and they separated after a year.
Furthermore, before he announced his sexuality, there were also speculations spread by his fans that he was dating a YouTube Musician, Dodie Clark, in late 2014.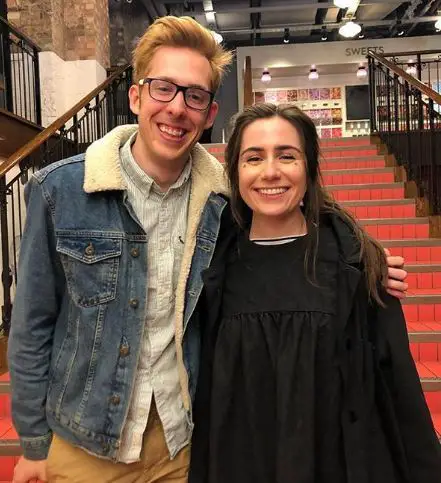 Evan Edinger with Dodie Clark on 11 April 2019 (Photo: Evan Edinger's Instagram)
The two Youtubers used to share a room in London and spend a lot of time visiting different places. But, it was revealed that they were only good friends. 
Moreover, in November 2015, Evan admitted that he was dating an American girl he found on Tinder. However, she went back to the USA after spending some months, and it seemed as if their relationship also ended.
Bio, Family & Nationality
The YouTuber and Travel Vlogger stand at the height of 6 feet 4 inches (193 cms). His birth sign is Leo.
The Deptford native was born in 1990 in Southern New Jersey, United States. The travel vlogger celebrates his birthday on the 29th of July. 
His family altogether had five-member; father, mother, and three children. Everything was normal in the Edinger family, except for Evan's dad's aggressive attitude.
Interesting: Sophia Pippen Age, Parents, Height, DWTS
Due to the same aggressive attitude, his parents separated when he was 16 years old. Later, he and his mother moved to a little farm town. Sadly, his father passed away on 6 November 2016.
Some Facts About Evan
• He has over 40,000,000 views and 500,000 subscribers on his main YouTube channel, Evan Edinger.
• He has managed to gain more than One million+ followers across his YouTube, Twitter, Tumblr, Facebook, Instagram, and Pinterest accounts.
• On multiple occasions, he was on Trending #1 on Twitter, both in the United States and the United Kingdom
• He collaborated with many UK's and US's top YouTubers and others.
• To promote his travel vlogger brand, he also successfully worked with the tourism board from Québec, New Zealand, Israel, Czech Republic, Slovenia, Hawaii, and many other countries.
• For his education, he graduated with MSc in Actuarial Science from Cass Business School.
• He graduated with a BA in Statistics and Mathematics from Rowan University.
• As a Boy Scout, he met President George W. Bush and got a signed letter from President Barack Obama.
• He loves camping and has reached the rank of Eagle Scout.