Renowned Mongolian dancer Erdenetuya Seagal is one of the top dancers in Mongolia. People also know Erdenetuya as the wife of the American actor, producer, and musician, Steven Seagal.
There are no precise details available on Erdenetuya's formal education; however, as a dancer, she is a product of Children's Palace in Ulaanbaatar.
Erdenetuya won numerous dancing contests that particularly named her in the list of an excellent ballroom dancer.
Despite her exceptional achievements as a dancer, Erdenetuya has not unveiled about her property and net worth. 
On the other hand, her husband is one of the wealthiest Hollywood figures and has a net worth of $16 million.
Wedding Details With Husband Steven Seagal, Children
Erdenetuya met her husband, Steven Seagal, in 2002, when Steven was in his tour to Mongolia for raising money for his movie about Genghis Khan.
Eventually, Erdenetuya happened to work as Steven's assistant, which connected them more closely.
You May Also Like: Emilie Livingston Bio: Wedding To Engagement Details, Jeff Goldblum & Job
After five years of their professional connection, Steven and Erdenetuya thought of taking their context to the next level and jumped up to a personal relationship.
Finally, after their connection of nearly seven years, Steven and Erdenetuya ended up exchanging their wedding vows in 2009.
Erdenetuya and Steven also have a son named Kunzung, born on 17 September 2009.
As of now, both Erdenetuya and her husband are living a happy family life with their son. They keep visiting different places and also share various stories of their family tours and visits.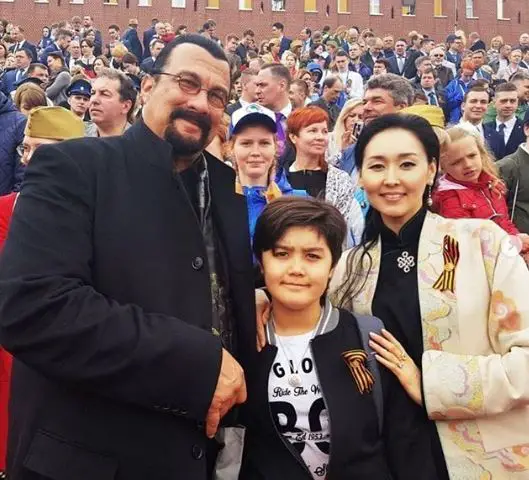 Erdenetuya Seagal poses with her husband, Steven Seagal, and their son Kunzung on 9 May 2019 (Photo: Steven Seagal's Instagram)
In the 67 years of his life, Steven has been married four times, including his marital ties with Erdenetuya. Steven was married to Miyako Fujitani, Adrienne La Russa, and Kelly LeBrock. Thus, Kunzung is not the only child of him. He has five children from his two ex-wives.
Most of his children from his past wives are all grown up and are standing firm in their careers as of now.
Erdenetuya Seagal Bio: Age, Parents & Ethnicity
Mostly famous as the wife of the American star Steven Seagal, Erdenetuya Seagal, is often referred to as Elle. There is no precise information available on Erdenetuya's actual age and birthday.
See Also: DWTS' Elena Samodanova Age, Height, Daughter & More Info
The only known fact about her is that the lady is of Asian ethnicity and holds the nationality of a Mongolian.
Elle had already stepped in the public platform before she got married to a superstar husband. She was known for her image as a professional dancer. She was considered one of the high-ranked female dancers in Mongolia.
Later, her connection with her husband got her to the height of fame, even in the United States.
Despite the greats of her fame, Erdenetuya never revealed much about her early life with her parents.
However, she opened up about the fact that she was trained as a dancer from a very young age; thus, there is no doubt that Erdenetuya's parents were very much supportive of her interest in the artistic field.
Hopefully, the lady reveals more about her early family life and parents to the curious people out there craving to know more about her life.